Military Sexual Trauma (MST): My Experience of the Challenges Facing Female Soldiers and Veterans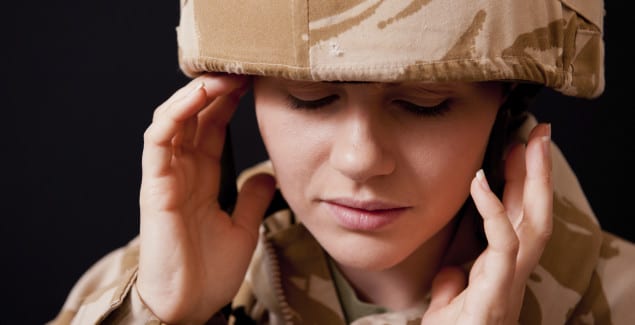 Posted in: Hot Topics, Podcast
Topics: Mental Illness + Psychiatric Disorders, Real Lives Real Stories, Stress
This blog post is part of a series entitled Real Lives, Real Stories: Personal Experiences With Mental Illness.
Note: The following person's account of his/her personal experience has been published with his/her consent to support the mission of The Clay Center for Young Healthy Minds, and let others in similar situations not feel so alone. 
Introduction
Gene Beresin, M.D.
Previously we posted a blog about Arthur Segaloff's two tours of duty in Vietnam in which I raised an important question around why he and other veterans with post-traumatic stress disorder (PTSD) are not eligible for Purple Hearts.
Arthur has served in the United Service Organization (USO) as a volunteer for over a decade. Here he helps us appreciate the tragic and horrifying situation of sexual assault in the military; it comes on the heels of debate in the Senate about the plight of women in the military, and the challenges of dealing with this incredibly important issue.
We should applaud the voluntary service Arthur and many other veterans provide for the young adults returning home from the Middle East. I encourage you to listen to our podcast and read his commentary here.
***
Military Sexual Trauma: Challenges To Our Female Soldiers And Veterans
Arthur Segaloff, B.A., M.Ed., CAGS
PTSD is the universal acronym for what is known as post-traumatic stress disorder. I have been suffering from PTSD since 1972, when I returned from two combat tours in Vietnam. Personally speaking, many of my fellow 'Nam vets prefer to drop off the "D," as the word "disorder" carries with it a negative connotation that persists some forty years later. Many of us have learned over the years to cope with our PTSD; therefore, we don't really consider it a disorder. Still, only 50% of veterans diagnosed with PTSD actually seek treatment—a fact that is very worrisome considering that PTSD is the third most prevalent psychiatric diagnosis among veterans (however, since the National Center for PTSD originally studied only men who served during the Vietnam War, these figures preclude any meaningful accounting for the some 11,000 females who served in-country during those years).
During the Iraq and Afghanistan wars, the Department of Veterans Affairs began to study sexual assault on both males and females in the military. As a result, a new acronym was added to the Veterans Administration (VA) lexicon: military sexual trauma, or MST, as it is known today. The fact is, when a service woman is a victim of MST and other stressors, she is very likely to suffer from accompanying PTSD. And, we are seeing these disorders in both women who have experienced actual war and terrorism and those who have not. Due to this situation, the retention rate and possibility of filling career-specialty military positions is severely diminished for women. While there are now female officers in charge of engineer and artillery units, for example, the numbers are still far too few.
MST and the possible resulting PTSD includes any sexual activity or harassment that a female or male soldier is involved in against her or his will. Such events may involve unwanted sexual touching, grabbing, or offensive or threatening remarks about one's body. Obviously infractions also include unwelcome sexual advances and rape. According to the Department of Veterans Affairs, the recent national data reveals that one in four women and one in 100 men admit to being victims of MST. In addition, MST may affect victims for many years. Symptoms of MST include depression, numbness of feelings, trouble sleeping and problems with alcohol and drugs. Individuals may also experience flashbacks of the actual incident, and difficulties in establishing positive relationships. Additionally, female soldiers may suffer physical health problems such as eating disorders, gastrointestinal illness, chronic pain and the loss of healthy sexual functions.
A real issue preventing mitigation of MST and PTSD is the severe under-reporting of the two among our military soldiers and veterans. According to a DOD study, there were 26,000 sexual assaults throughout the military in 2012. Of this number, only 3,374 were ever reported. And, within that number, a mere 302 alleged perpetrators were prosecuted. Having been in contact with a large number of soldiers returning from the Middle East over the last decade, I can suggest a number of possible reasons for this under-reporting.
As a volunteer greeter for the United Service Organization (USO) at Logan Airport in Boston, I have been in contact with thousands of guests representing all branches, active and retired, male and female, young and old. My two basic conclusions are these:
Reporting MST or PTSD while on active duty is generally a career killer. Soldiers fear reprisals for reporting, as doing so is highly stigmatize—despite overall efforts to acknowledge the failure to do so as a violation of rules and regulations.
To add insult to injury, most military individuals are unsure how to navigate the healthcare system in order to obtain the necessary medical and psychiatric care.
In my role, I greet soldiers upon their arrival, and help answer questions they may have about returning home. I'm largely meant to ensure that they receive a personal welcome back to the United States—whether they are staying in the military, or returning to civilian life. However, my quick meet-and-greet function often gives way to fact finding, crisis intervention and mentorship for younger individuals in trouble. All too often, a simple handshake or hug is not enough; rather, these service men and women need someone to spill their guts to about concealed trauma. I have found that my openness and non-judgmental approach seems to encourage candid conversation. Further, by sharing my personal experience with PTSD, they are encouraged to share their own stories and follow suggestions for assistance. Many times, there is an older, more experienced trooper or sailor within earshot who will add further color to the conversation. It's my experience that those with MST and/or PTSD are desperately looking for personal revelation, advice and a positive direction to follow. Simply stated, they want to feel better and get well, but first they need to find someone with whom to start the talk. They desperately want that door in their lives open.
In talking with my female guests, it has become more obvious to me that the VA health system is generally more geared toward servicing men. There is a quantitative gap in the service to females. In fact, I can count on one hand the number of female vets I have seen in the waiting room over the course of my visits to local VA health care providers. There is an obvious lack of gender-specific specialists, community support and employment assistance.
The number of women who use the VA health system has increased from 160,000 to 390,000 (which is astounding considering there are currently 2.2 million female veterans—a number that is projected to double in the not-so-distant future). They represent the fastest growing segment in the veteran community; yet, their growth is happening at a time when the total veteran population is dropping from 22 million down to 15 million—and the VA is lacking gender-specific treatment such as female support groups and full-time gynecologists and obstetricians in its healthcare system.
It's not too difficult to connect the dots here.
Arthur Segaloff, B.A., M.Ed., CAGS
Recipient, Bronze Star Medal for Valor; Purple Heart (2); Air Medal; Army Commendation Medal for Valor; Republic of Vietnam Campaign Medal (5 campaigns)
100% VA service-connected disability
Was this post helpful?
Let us know if you liked the post. That's the only way we can improve.
Newsletter
Subscribe Today
Your monthly dose of the latest mental health tips and advice from the expert team at The Clay Center.
Subscribe
Multimedia
Quick Jumps
Tag Cloud