Sexual Assault: How to Talk With Your Kids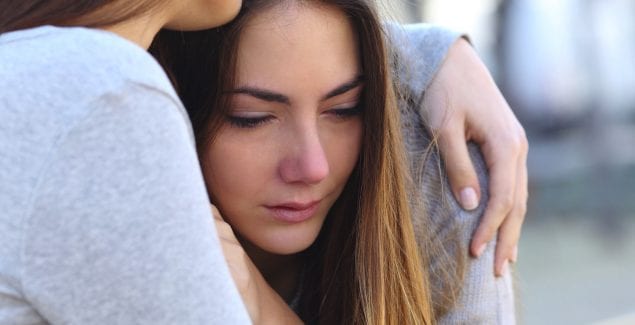 Posted in: Parenting Concerns
Topics: Culture + Society
As a father of four children and grandfather of four, I was personally shaken by the testimony of Dr. Christine Blasey Ford yesterday. I thought about my kids growing up, and what they might have experienced or observed and never told me, my wife, or anyone.
Last night I had a hard time sleeping.
As a child psychiatrist, I have treated many patients over the years who have were sexually assaulted in secondary school, high school, and college. Some have reported it. Many chose not to. And some who did, refused to testify about their abuse.
And how many of the kids taken care of in our clinic by residents under my supervision experienced sexual trauma unknown to the clinicians?
It scares me. It scares me because I know as a therapist about the inner world of many victims – the shame, the flashbacks laced with panic, the mistrust of relationships, the fear of retribution, the perception of being blamed – or worse, blaming themselves. Many suffer for a very long time, if not for life.
Dr. Ford's story rings true to my 38 years of experience in child and adolescent psychiatry.
On Thursday, Fox news anchor Chris Wallace reported that after the hearings his two daughters told him stories he had never heard before of what they experienced in high school. It was not nearly as serious as what we heard from Dr. Ford, yet very disturbing.
The National Sex Offender Public Registry of the United States Office of Justice reports 1 in 4 girls and 1 in 6 boys are victims of sexual abuse before the age of 18. Many do not report the abuse, or it is considerably delayed.
Many of our kids know about the news – about Dr. Ford's testimony and the vehement debate that has encompassed our country. Many have heard about reports of adult sexual misconduct and assault through #MeToo. They hear about leaders in government, Hollywood, business, teachers, and clergy among others.
How do they process this information? How do they deal with it emotionally, particularly if they have been victims?
What can we do as parents?
This is one of the most difficult conversations a parent can have with a child. It requires composure, sensitivity, containing one's emotional reactions, an ability to listen, and never to interrogate.
Here are some tips:
Take care of yourself first. If you have been victimized, this is especially hard. Perhaps you need to approach your kids with a partner, your own parent, or a friend so that you feel supported. Be aware of your own emotional reaction and triggers. Kids need to know, particularly if you want them to talk about their own experience or what they have seen around them, that you are OK – that you are able to tolerate their story.
Remember the developmental level of your child. Kids who are very young need simple questions such as, "Have you ever been touched by anyone, in a way that made you uncomfortable." This is vastly different from how you would ask a teenager. This might be more like, "Have you or any of your friends experienced a sexual advance you did not want?"
Start with experiences that are in the news. Kids of all ages are more at ease talking about Dr. Ford or another person with reported sexual abuse than about themselves or their friends. Start with open-ended questions, such as: "What have you heard about Dr. Christine Blasey Ford in the news?" and "What do you think about it?" "How did it make your feel?" We want to understand what our kids have heard, and how they are processing the information they get. Also ask how they learned of any sexual abuse in the news. It may not be Dr. Ford's story they refer to, but Bill Cosby, or someone else. We need to start with what they have heard and their response to it.
Gently move to hear their story. Again, try to keep to open-ended questions, rather than ones with a yes or no answer. You might begin with letting them know that you want to talk with them about something that may be difficult. And you might also want to say that the kind of things you want to talk about are very common, even though they are difficult. Reassure them that you will keep it confidential, and that if they don't want to talk with you, but with someone else, that's fine. Many kids have already talked with peers first. Reports indicate that peers are often the first to know, then mothers. Ask if they have told anyone else and if they want to talk with you with the other person. Then use an open-ended question such as, "Can you tell me about anything sexual that has happened to your or one of your friends?"
Ask about their feelings. An important part of hearing a story about sexual abuse, is understanding the impact on our kids. Are they ashamed, worried, fearful? And if so, what specifically are their fears.? They need to know above all that you will not reprimand or blame them. They need support.
Don't jump to action. Reporting sexual abuse is hard enough. The last thing a child or young adult needs is to feel that their report is going to go to the authorities and involve strangers, police, or investigators.
The #MeToo movement and disclosures of brave individuals such as Dr. Christine Blasey Ford has opened the door for many victims of sexual assault. While our overall goal is to prevent sexual abuse, we also want to hear from victims and survivors.
Often, the process of disclosure with trusted individuals is the first step in healing.
Was this post helpful?
Let us know if you liked the post. That's the only way we can improve.
Newsletter
Subscribe Today
Your monthly dose of the latest mental health tips and advice from the expert team at The Clay Center.
Subscribe
Multimedia
Quick Jumps
Tag Cloud