Vaping: An Epidemic Among Youth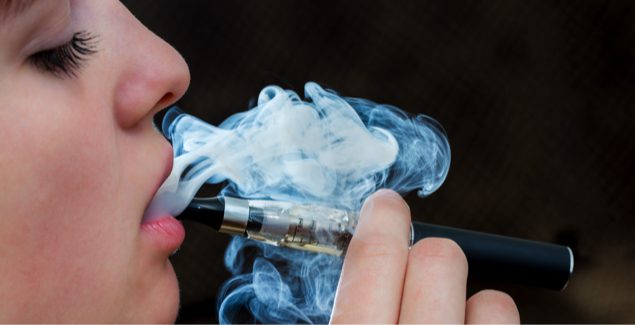 Posted in: Hot Topics, Parenting Concerns
Topics: Addiction & Substance Misuse
A recent national study published in the Journal of Adolescent Health found that among adolescents ages 13-24 years, a COVID-19 diagnosis was significantly higher in those who had ever vaped or used e-cigarettes. For resources during the pandemic, please visit our Coronavirus and Family Mental Health page.
Electronic cigarette (e-cigarette) use has been increasing among young people in the United States over the past several years. In fact, in a recent statement, the U.S. Surgeon General declared e-cigarette use among youth an epidemic. As of 2018, 1 in 5 high school students reported currently using e-cigarettes – that's over 3 million high school students. In addition, more than half a million middle school students – or 1 in 20 – reported currently using e-cigarettes. These numbers are significantly higher than they were just one year earlier, and many more students report using e-cigarettes than typical combustible cigarettes.
You may find yourself walking by (or into) the large, sweet-smelling plumes of vapor generated by these e-cigarettes and wondering what exactly these devices are, who is using them, and whether they're really "just water vapor." With e-cigarettes being relatively new products that have unknown long-term health effects, and that come in many different forms and flavors, it feels as if there are more questions about these devices than answers. However, let's explore what we do know about e-cigarettes.
What is vaping/e-cigarettes?
Electronic cigarettes are battery-powered devices that heat a solution to create an aerosol, or vapor, that is inhaled by the user. The solution usually contains nicotine (although some e-cigarettes do not), and can also contain flavorings and other substances. There are a wide variety of e-cigarette flavors available on the market, which range from traditional tobacco, to piña colada, to gummy bear.
E-cigarettes are called a number of different names, such as "electronic nicotine delivery systems," "vape pens," or "mods." The act of using an e-cigarette is often called "vaping," referring to the vapor that is produced by puffing on an e-cigarette device.
E-cigarettes come in many forms. Some, often called "cigalikes," look and feel like combustible cigarettes. Others may look like pens or USB flash drives.
One specific brand of e-cigarette that has grown in popularity among youth and young adults is the JUUL. JUUL devices look like USB flash drives and come in a variety of flavors such as mint, fruit, or crème. The act of using a JUUL is sometimes called "JUULing."
How much nicotine is in an e-cigarette?
E-cigarettes vary in how much nicotine they contain. They can come in different strengths of nicotine, and some contain no nicotine at all. How much nicotine is delivered to someone using an e-cigarette can be differ based on the type of e-cigarette that is used and how the puffs are taken from the device.
Are e-cigarettes harmful?
Nicotine is highly addictive. Using nicotine in any form can harm brain development in youth and young adults. Nicotine can affect concentration and learning, and is associated with behavior and impulse issues.
E-cigarettes generally contain fewer toxic chemicals than combustible cigarettes, but e-cigarettes still contain several harmful substances. The long-term health consequences of e-cigarette use are unknown. More research is needed to understand how their use affects health long-term, but this can take many years.
There have also been reports of e-cigarette devices sometimes malfunctioning, causing fires or explosions that can lead to skin burns or other injuries.
Who can legally buy e-cigarettes?
Sales of e-cigarettes are prohibited to youth under the age of 18 in the United States. In some states, the legal age of purchase is 19 or 21. Young people who use e-cigarettes may be getting them from other sources, such as older friends or family members, or online.
How many young people are using e-cigarettes?
The 2018 Monitoring the Future Study, which surveys students in 8th, 10th, and 12th grades, found a large increase in e-cigarette use among adolescents from 2017 to 2018. Over 20% (more than 1 in 5) of 12th grade students reported vaping nicotine in the past 30 days in 2018, as well as 16% of 10th grade students (1 in 6), and 6% of 8th grade students (1 in 16). These estimates are nearly double the rates seen in 2017.
As of 2018, more youth are using e-cigarettes than combustible cigarettes.
Who else is using e-cigarettes?
In 2017, 2.8% of adults in the United States reported using e-cigarettes, or about 1 in 35. Most adults who use e-cigarettes also smoke combustible cigarettes. While many of these adults report using e-cigarettes to help them quit smoking combustible cigarettes, e-cigarettes are not currently approved the Food and Drug Administration for this purpose. Further studies are needed to determine whether using e-cigarettes can help smokers stop using cigarettes for good.
Where can I find additional resources about e-cigarettes?
Was this post helpful?
Let us know if you liked the post. That's the only way we can improve.
Newsletter
Subscribe Today
Your monthly dose of the latest mental health tips and advice from the expert team at The Clay Center.
Subscribe
Multimedia
Quick Jumps
Tag Cloud