The Crisis In Pediatric Psychiatric Emergency Rooms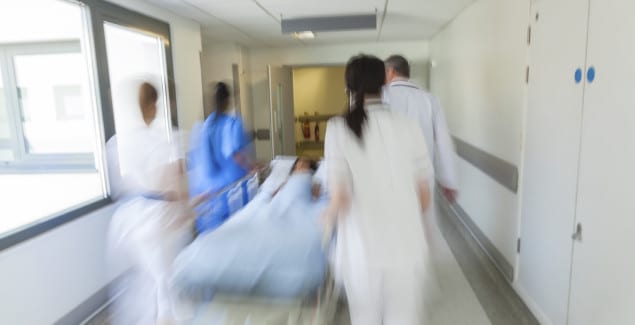 Posted in: Hot Topics, Podcast, Teenagers, You & Your Family, Young Adults
Topics: Mental Illness + Psychiatric Disorders
Psychiatric emergency rooms are busier than you can imagine—unless you've been stuck in one.  In fact, there's only one emergency room setting that's even more so: pediatric psychiatric emergency rooms.
In both urban and rural locations, on both coasts as well as in the middle of the country—literally throughout the land—psychiatric emergency rooms are bursting at the seams.  This is hardly news, and yet, whenever we are contacted by the media about the bottleneck of psychiatric patients that come through our doors, the reporters are uniformly aghast.  It sometimes feels like we keep stating the problem over and over again, but never quite get around to fixing it.  Maybe that's why it never gets the coverage it deserves; we always seem to be re-telling the same story.  And, if nothing really changes, it ceases to be newsworthy.
But why?  Why don't things change?
There are all sorts of reasons.  To illustrate these issues, let's look at a vignette.  Like all the vignettes we use, this is a fictional though highly plausible case.  In that sense, we can use this case to understand the formidable barriers to emergency psychiatric care that persist throughout the country.
The Case
Billy is a 15-year-old boy who has become increasingly isolated since being cut from his high school basketball team.  He rarely calls friends anymore, sleeps excessively, and has been more and more irritable over the past few weeks.
His parents bring him to the emergency room on a Wednesday afternoon upon discovering a noose in his closet.  When they had asked him about the noose, he told them that he looked up how to tie it on the Internet, and that he was keeping it in his closet "just in case."  They immediately called their pediatrician, who advised that Billy be brought to the emergency room. At the emergency room, Billy tells the examining pediatrician that he "could care less" whether he lives or dies.  Nevertheless, he denies any plans to harm himself with the noose, and notes instead that he simply likes knowing that it's there.
The hospital to which he is taken happens to have a general psychiatrist, but not a child and adolescent psychiatrist.  The general psychiatrist examines Billy, makes the tentative diagnosis of depression with passive suicidality, and, given the presence of the noose, decides that Billy requires psychiatric hospitalization to begin treatment for a mood disorder (and to keep him safe).  The psychiatrist also learns that Billy's mother and father both have a history of depression, and that his paternal grandfather died by suicide.  Importantly, Billy is aware of his grandfather's history.
Seems straightforward enough, right?  We could give you more history, but it's not really needed.  What matters is that Billy needs to go to the hospital.  He tied a noose, says he doesn't care if he lives or dies, and has a family history of depression and even suicide.  If he had the equivalent set of symptoms for something like renal disease—let's say he had protein in his urine and a grossly abnormal urinalysis in the absence of any significant history of renal problems—he'd be admitted in a heartbeat.  There'd be no hesitation.
However, the trouble starts with Billy's insurance.  After about an hour on hold, as well as a detailed presentation from the doctor to the insurance company over the phone, the insurance company refuses to authorize the hospitalization.  The company has a contract with three hospitals in the metropolitan area, and those hospitals' adolescent psychiatric beds are all taken.  The law requires that Billy receive the minimal emergency treatment necessary for his health, but not necessarily anything more.  Therefore, since Billy has not acted on his thoughts with the noose, the insurance company is unwilling to pay the huge out-of-pocket costs associated with hospitalizing Billy at an out-of-network hospital.  They're not denying that he needs to be hospitalized; they stress over the phone that that particular decision is a medical one best made by the doctors in the emergency room.  They just won't pay for a hospital bed until one opens up at one of the already approved facilities.
So, what is the minimal treatment for emergency room psychiatric care?  In Billy's case, because there are no beds available for his particular illness, and because of the limitations of his insurance and his parents' financial resources, Billy is held in the emergency department until a bed becomes available.
In fact, Billy is held in the psychiatric emergency department for three days.  That's 72 hours.  He is held in a locked room, and is seen daily by the emergency room general psychiatrist and a social worker.  He is started on an antidepressant, but he never leaves his room.  At one point, after he becomes agitated and frustrated, he is literally restrained to the bed and administered a sedative for his own safety.
Finally, a bed at one of the approved facilities becomes available.  Billy is still alive, of course, but he has received only the care that those in the emergency room can reasonably provide.  Meanwhile, the emergency room has admitted nine more children to the psychiatric emergency service, as well as fourteen more adults.  Things are at a standstill.
So, what happened?  
What happened to Billy is what happens every day to children and adolescents in psychiatric distress: he ran up against the usual suspects of roadblocks.  He and his family faced insurance barriers, a lack of child psychiatrists, and a scarcity of inpatient beds.  But, what Billy really ran up against is stigma and discrimination.  It's that simple.  The same treatment just wouldn't be tolerated for any other illness.
In 2011, Pediatrics, the flagship journal of the American Academy of Pediatrics, published yet another article on the brewing crisis in psychiatric emergency care for children.  There were similar articles in 2001, 2002, 2003, 2004 and 2005 (and so on).
There were news stories as well.  60 Minutes ran a famous segment in 2014 called "Nowhere to Go" which detailed the ongoing crisis in emergency care for psychiatrically-ill young people.  There have also been high-profile stories over the years in major newspapers and on virtually every media network.
But, as we noted, when nothing really changes, news ceases to be news.  For that reason, perhaps, this story is getting tiresome.  No one seems to have a viable solution.  But, there's nothing tiresome for Billy and his family.  There is nothing mundane about this crisis if you have a child in need.
To be fair, some exciting solutions have been proposed and recently implemented.  Some hospitals have installed, for example, the equivalent of inpatient units within their emergency wards.  These are short-term units, but they allow for standard-of-care inpatient psychiatric treatment to be provided.  Still, these programs cost money, and require significant political will and effort.  Many of these programs had their geneses in rulings like the Washington State Supreme Court decision last August that noted that the practice of boarding psychiatric patients in emergency wards was unlawful.  You can't hold a person against his or her will in Washington State without providing adequate, as opposed to only minimal, treatment.  Clearly, solutions are necessary after such court findings.
Let's not give up this fight.  As the above podcast notes, we have dedicated clinicians who are intent on making this situation better and more viable.  After all, our children and our nation deserve better.
Was this post helpful?
Let us know if you liked the post. That's the only way we can improve.
Newsletter
Subscribe Today
Your monthly dose of the latest mental health tips and advice from the expert team at The Clay Center.
Subscribe
Multimedia
Quick Jumps
Tag Cloud