Q+A: Are Behavioral Issues Among Kids as Common as They Seem?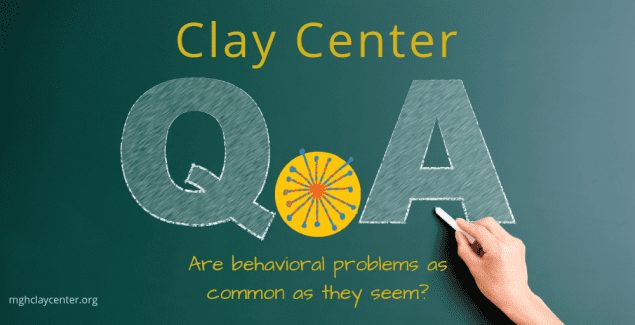 Posted in: Grade School, Infants & Toddlers, Parenting Concerns, Pre-School, You & Your Family
Topics: Behavioral Issues, Q+A
Question: It seems like every child these days has some kind of problem. ADHD. Anxiety. Depression. Are these things as common as they seem?
Answer: Are behavioral challenges among children as common as they seem? Well, it's difficult to say because the line between normal and abnormal behavior is often a matter of degree. That said, most children show at least some kind of "problem behavior" at one time or another.
Best estimates are that about one in five children has an actual mental health problem that significantly impairs functioning, and 10-20 percent of children meet diagnostic criteria for a specific psychological disorder. Many other children have mild problems or adjustment difficulties, such as adjusting to a new school or family situation, that may make them behave in ways that are inappropriate for their age. Determining which problems merit professional attention and which ones don't can be difficult and in many ways depends upon the degree to which the problem is interfering with the child's functioning.
Oftentimes, parents will know instinctively that something isn't right, only to be told by friends, family members, and even professionals such as doctors and teachers that "there's nothing to worry about." Other times, friends and family will remark how "Johnny" seems to have a problem, but Johnny's parents aren't ready to hear it.
Usually, though, we label a child's behaviors as problematic if:
the problem persists for more than three or four weeks without going away; or
the problem is at the end of the continuum for that behavior.
Another consideration is whether the symptoms are appropriate for the age of the child. For example, a 5-year-old child might start wetting the bed after his family moves to a new town. This would be considered inappropriate but somewhat "normal" considering the circumstances (especially if the behaviors lasted only a week or two), while a 9-year-old who displays the same behaviors – which do not remit after a few weeks, for example – would be considered worthy of an evaluation.
Was this post helpful?
Let us know if you liked the post. That's the only way we can improve.
Newsletter
Subscribe Today
Your monthly dose of the latest mental health tips and advice from the expert team at The Clay Center.
Subscribe
Multimedia
Quick Jumps
Tag Cloud