The Value of Being a Grandparent: 7 Ways to Support Your Grandchild's Mental Health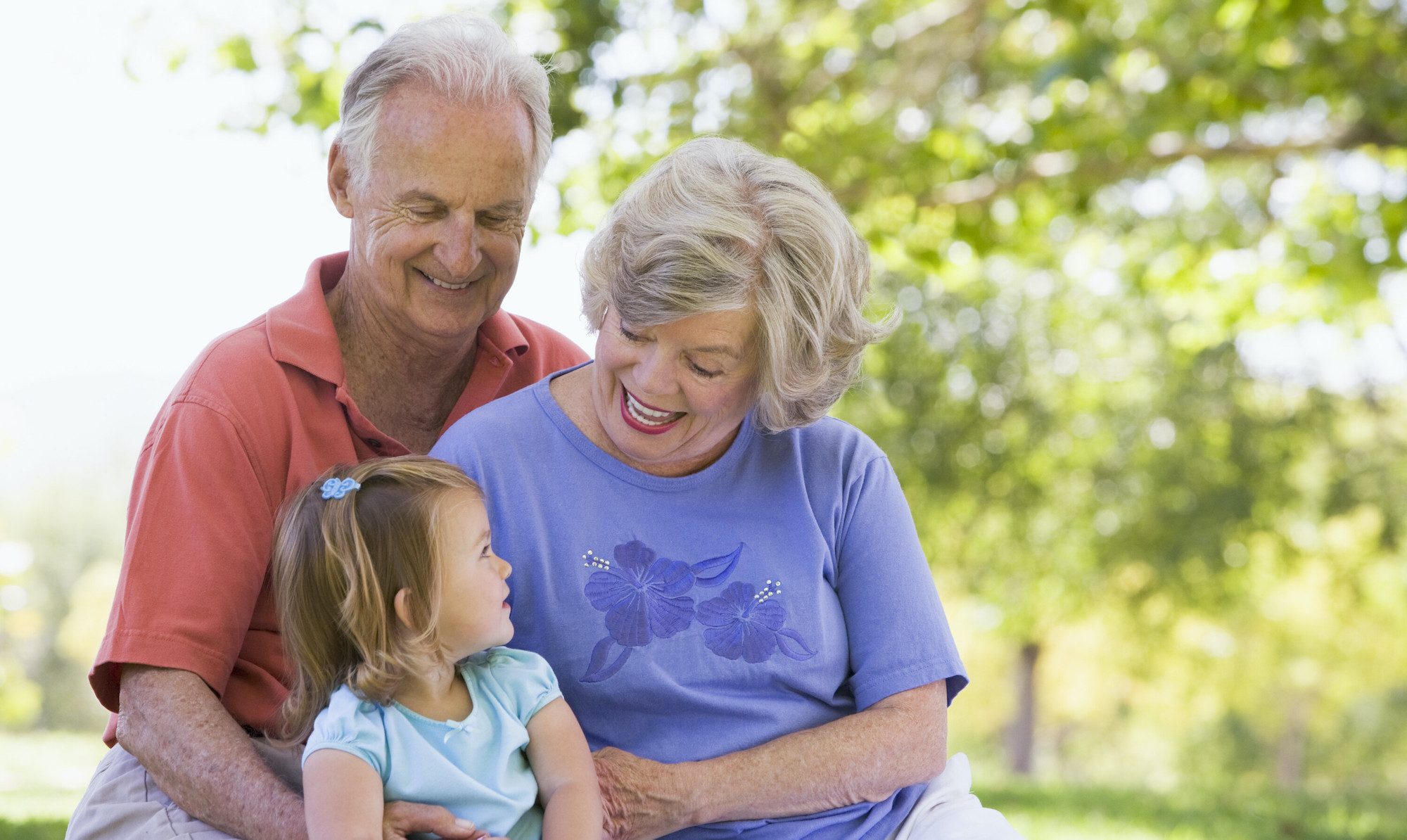 Posted in: Grade School, Parenting Concerns, You & Your Family
Topics: Child + Adolescent Development, Relationships
I've reached the age of becoming a grandparent. So have many of my friends.
There's something quite special about this experience. It's not clear to me what makes it so powerful, but I wonder if it's the profound reality that your family has some form of continuity extending into the future; or if it's the joy of witnessing your own kids sharing the experience of mutual love between parent and child; or simply some immediate personal connection and attachment to a child, similar to how you felt when your own child was born. Out of nothing comes an immediate love affair.
Regardless of the cause, being a grandparent evokes pride and a drive to be a part of your grandchild's life. The revelation that you are dear to them comes out in so many ways. What do they call you? Is it a special or unique name? Can they remember your name and ask for you when you're not there? Do they recognize you when they see you (and better, call out your name) or even better, reach out to you to pick them up! Do they make you special presents, like drawing your picture?
Besides the personal pleasures and impulse to show your friends endless photos or videos of your absolutely beautiful, smart, and talented grandchild, there are many ways grandparents can support to the healthy, emotional development of their grandchildren.
Let's look at the role and importance of being a grandparent.
A Guide for Supporting Your Grandchild's Mental Health
1. Taking Care of Your Grandchildren (and Giving Parents a Break)
We may remember how exhausting it is to be a parent. It's endless, and at times it intrudes on parents' work, social life, and need for rest. What a win-win event it is for you to swoop in and feed, play with, or babysit your grandchildren. It sounds mundane and simple, but these times are treasured, and offer your adult kids precious time to  get some work done, nap, go out for a run, shop, or just have a break. Further, it promotes the grandchild's attachment to you. There is nothing more important in connecting with a child than spending time with them. And a true sign of caring is taking on the routine duties of every-day life.
Activity Ideas:
Grandparents: Help teach your grandchildren a game around cleaning up their toys. Make a chart with stickers they get to choose and put on the fridge. Create a special snack or lunch that your grandkids can look forward to during grandparent time. This will not only be fun for them but help set a precedent to make life easier for parents.
Parents: Consider getting a family subscription to a local museum or community center that would let your parents and kids get out and about. You can also share lists of favorite playgrounds, libraries, TV shows, and more. It will help your child's time with grandparents special.
2. Giving Advice and Support to Your Adult Children
Your kids may call you often as they navigate the waters of parenting. Questions for guidance can include typical events of daily life—getting kids to settle into bed, managing picky eaters, or dealing with challenging behavior, like separation anxiety, temper tantrums, or sibling rivalry. They may also ask advice in more adverse events—caring for a sick child, seeking a medical referral, or managing mental health issues like depression, anxiety, suicidal behavior, substance use, or sadly, if a divorce is in the wings. You don't have to have gone through these situations yourself as a parent to support your adult children, though you may have. Even if you do not have all the answers, it's often just as important to simply lend an empathic ear. No parent should  worry alone.
Conversation Topics:
Grandparents: Set aside some time to have conversations with your adult children about your grandkids' development. In both of your busy lives, your children may feel there's little room for discussions, and they may also be reluctant or ashamed to talk about issues before they escalate. It's always wise to catch things early, and these conversations may be valuable in preventing difficulties.
Parents: Mental health issues are commonly stigmatized, and many parents may feel that an emotional or behavioral challenge with their child is their fault. Far from it. Psychological and behavioral issues are the norm! You and your parents may never have discussed these issues, even ones they solved during your own childhood. But you can learn a lot through these conversations. It's important for parents to ask what conditions run in the family, and if and how they were treated, including any medications used. Many mental health issues can be hereditary, and kids may respond to the same medications as other close family members.
3. Helping Your Kids Financially (If You Can)
Being a parent is not without economic strain. Kids, especially teenagers, cost money for clothes, food, computers, sports equipment, cell phones, and much more. The costs of daycare, after school programs, and college tuition places a burden on many families. If you as a grandparent have the means, you may be very helpful in offsetting costs. The help may take the form of new items, shopping at second-hand stores, or contributing to a college fund. Remember that providing childcare, say one day a week, not only fosters your attachment to your grandkids, but saves costs of childcare.
Activity Ideas:
Grandparents: If you can, take your grandchildren out to thrift stores in the community and give them a limited budget for some items they need at home. It will help parents, teach your grandkids the value of money, and be a pretty cool excursion.
Parents and Grandchildren: Create a list of tasks kids could do to earn money, and allow them time to work on some of these tasks when the grandparents are visiting.
4. Maintaining the Parental Rules (But at Times, Spoiling Your Grandchildren)
One of the most important jobs for parents is to set rules at home – what food, snacks, or desserts are acceptable, the amount of screen time, what TV shows or films are OK, and setting the daily schedule, such as bedtime, curfew, etc. It's important to check parental rules and abide by them. Kids of all ages thrive on consistency and a regular structure. On the other hand, most grandparents have the golden opportunity to "bend" the rules, when appropriate, and offer special treats, like occasional presents, a second dessert, or perhaps staying up a tad late. While you should never undermine parental authority, a certain amount of "spoiling" helps make you special.
Bending the Rules:
Grandparents: Make your "bending the rules" reasonable and, if possible, educational. For example, I love watching videos with my grandchildren, but their parents have strict rules about screen time. I routinely check what shows are OK and which ones are not. I introduced my grandchildren to Mr. Rogers, and some incredible YouTube music videos, including Playing for Change.
5. Conveying the Family Narratives
Kids love stories, and family stories in particular. They may want to learn about how their parents grew up, where their relatives came from, tough times gone through, and relatives they may never have met. Grandparents are often the purveyors of treasured stories and photos of family members. Your stories give them a sense of belonging and can help them appreciate where they fit into your family's history. It becomes a part of their identity formation.
Story Ideas:
Grandparents: Show your grandkids old photos, letters, or heirloom objects that you love and that are meaningful to you. If you have old videos or even films that you can digitize, these can be exciting to watch and give them a sense of connection to the family. Through explaining what life was like many years ago, it also provides a neat segue into the history of the world when you and their parents were growing up.
6. Teaching Your Grandchildren: Sharing Wisdom and Long Term Perspective
As an elder in the family, you have a wealth of experience and often serve as a source of guidance and counseling. As your grandchildren grow older, you can become a trusted resource for advice. Kids appreciate being heard and understood. Even though they may not ask directly for help, they benefit from thoughtful coaching as they face more complex situations. While parents are there on a daily basis, someone who is not involved in day-to-day decision making can sometimes give a broader perspective. If you routinely talk with them – whether by phone, video chat, or other digital media – you can ask about their relationships, academics, interests, and challenges from a very young age. If you engage in reflective conversations early on, they will come to see you as someone trusted to go for wise counsel.
Connecting Ideas:
Grandparents: You have talents and skills you can share with your grandchildren. Many of them may be different from those of their parents. Examples include cooking special foods, playing a musical instrument, speaking a foreign language, sewing, or teaching a craft.
Grandparents: Kids need mentorship. Keep your door open for them to contact you, trust you, and assure them that your advice will be confidential, unless they or others are in danger.
7. Learning From Your Grandchildren
Grandparents have the benefit of lived experience but are often less in touch with some aspects of the modern world. For example, we grew up with different music, older films, and most of us are digital immigrants. Our grandchildren are digital natives and have a heightened world awareness, and there's a lot we can learn from them. Asking them for help reinforces their skills and boosts their confidence. When they help us with software, set up stereo systems, or program our smart phones, our grandchildren feel that they can make a positive contribution to our lives. This is one way to build self-esteem.
Learning Ideas:
Ask your grandchildren to teach you about something they know, enjoy, and do well. Praise them for their skills. Validate their abilities, knowledge, and expertise. Valid praise goes a long way. Also, ask them to explain what they have learned in school. I am sure there are topics and issues they know more about than you do!
Being a grandparent is a unique and wonderful experience. At times, you may not agree with everything about your adult kids' style of child rearing. Nonetheless, you hold a unique place in the lives of your children and grandchildren.
Was this post helpful?
Let us know if you liked the post. That's the only way we can improve.
Newsletter
Subscribe Today
Your monthly dose of the latest mental health tips and advice from the expert team at The Clay Center.
Subscribe
Multimedia
Quick Jumps
Tag Cloud