What to Know About Getting Your Child SAT/ACT Accommodations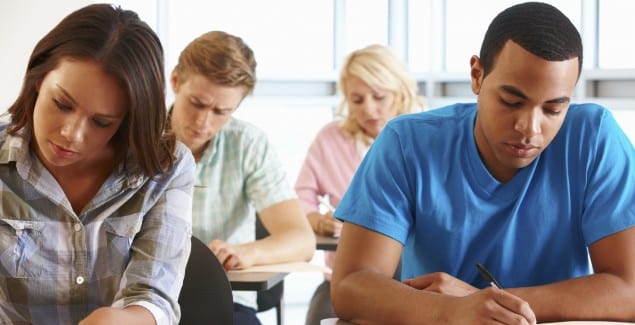 Posted in: Hot Topics, Teenagers
Topics: Learning + Attention Issues
The Scholastic Aptitude Test (SAT) and the American College Test (ACT) are important tests for students hoping to go to college.  If you have a high school student with a learning disability (such as dyslexia, dysgraphia, disorder of written expression) or ADHD, you might be wondering if they can—or should—receive extended time on tests.  You might also be wondering whether other accommodations, such as the use of a computer, or the ability to take tests in a private room, would be helpful.
In order to be eligible for extended time and other accommodations, a student must have a documented disability.  If your child attends public school, this typically means he will have an IEP or 504 plan that allows him extra time on tests throughout the school year.  If your child attends a private school, the private school should at least have a report on file that says that he is entitled to extended time due to a documented disability.
"Documentation" typically involves a comprehensive assessment—and the more comprehensive the assessment, the better your chances of obtaining extra time or other accommodations.  Typically, the assessment is a neuropsychological assessment that includes measures of cognitive, academic, memory, language and executive function skills.  The earlier a learning issue is documented, the better.
Every fall, when students start to "gear up" for the SAT/ACT, I receive multiple calls on a weekly basis from parents seeking a quick evaluation so that their child can get extended time on the SATs.  If your child is a junior or senior (or even a sophomore), and this is the first time he's being evaluated—even if a learning disability is found—it's probably unlikely that he'll get extra time.  This is because it's too late for the ACT or SAT to approve it, as they view a recent diagnosis as a lack of evidence of a chronic problem.  This is why it's vitally important to get your child tested (either through your local school district or at a clinic) at the first sign of trouble.  I've evaluated thousands of kids, and never have I heard a parent say, "Gee, I wish I'd waited until things got worse to get my child evaluated," but almost weekly I hear them say, "I don't know why I waited so long to get help."
Now, you may be asking yourself, "Why do children need extra time anyway?  Isn't that just an unfair advantage for students who can afford to get tested?"  The answer is: children benefit from extra time when they have a learning disability that makes it impossible for them to complete the test in the time allotted.  For example, a child with dyslexia (who has a slow reading rate), may be able to answer every question on a test correctly, but if he doesn't have time to actually read each question, he is competing on an uneven playing field with the students who can.  Students who do poorly on the SAT because they don't know the answers (but who still have time to read every question) actually don't do better with extra time.  If you don't know the answer the first time you've read a question, having more time to answer it isn't going to help you.  However, if you have ADHD or a documented learning disability, extra time may allow you to actually complete the test.  Not everyone with ADHD benefits from extra time, but many do—particularly those with slow reading rates and processing speed.  Most students with dyslexia or a specific learning disability in math, reading, or spelling, benefit from extra time.
In addition to extended time, other accommodations include:
Large print materials
Extended breaks
Additional breaks
A "reader" (a person who reads the test to the student—this is typically given to students with a severe visual impairment)
Ability to write answers in the test booklet
Ability to use a computer for the written portion of the exam
Testing in Braille
You should know that the more accommodations you request, the more documentation you'll need to provide.  It has also been my clinical experience that the more lengthy the list of requirements, the more likely it is that the accommodations will be denied.  A thorough evaluation—and your child's accommodation plan—should be your "road map" as to what is most appropriate to request on standardized testing.  As a general rule, you shouldn't expect the ACT/SAT to grant more accommodations than your child receives at school.  For example, if he's never needed a "reader" to help him take tests at school, the SAT/ACT is most likely not going to give him a reader on their test either.
If you think your child might benefit from extra time or other accommodations, here's what you need to know:
Determine whether your child has a legitimate need for accommodations.  As I said above, this should be done as early in their development as possible, and needs to be documented by a qualified professional—generally a psychologist who will administer a battery of tests.  This can be done privately at a hospital or private clinic, or through your local school district.
If your child has a need for accommodations, get an IEP or formal accommodation plan through your school.  You will need to present the school with evidence of the academic need for accommodations, along with documentation of the learning disability or other issue that is impacting learning.
You will need to apply separately for any accommodations through the SAT or ACT governing bodies.  Information about their application process can be found at www.sat.collegeboard.org or www.actstudent.org.
No college will know that your child took the ACT or SAT with accommodations.  The Americans with Disabilities Act (ADA) requires that this information is kept confidential.  The colleges only see your child's final score.
If you apply for accommodations and your child is denied, you can appeal their decision.  If you decide to do that, follow the guidelines set forth in the denial letter.  I find it's best for parents to put together a comprehensive packet, providing the board with copies of every evaluation that has been done (going back to preschool if you have it), school reports that document the disability,  and a cover letter that describes each one of the supporting documents.
The requirements for applying for accommodations on the SAT/ACT are extensive (and documentation can be expensive) but if your child needs it, it's worth it.  Finally, if your child does have a documented disability, you might want to consider a college that is particularly helpful to students with disabilities.
Was this post helpful?
Let us know if you liked the post. That's the only way we can improve.
Newsletter
Subscribe Today
Your monthly dose of the latest mental health tips and advice from the expert team at The Clay Center.
Subscribe
Multimedia
Quick Jumps
Tag Cloud