New Year's Resolutions: How To Make Them Work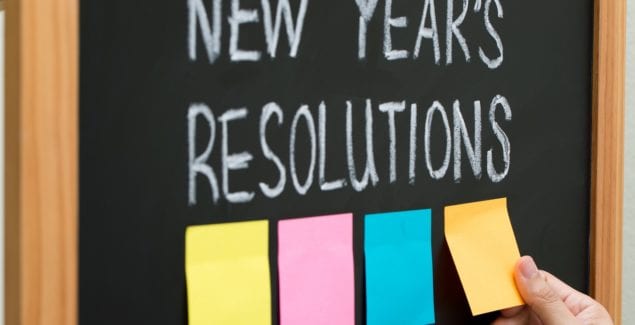 Posted in: Grade School, Parenting Concerns, Teenagers, You & Your Family
Topics: Culture + Society, Healthy Living
New Year's resolutions… 
Many of us have made them in the past, and I bet some folks have even followed through with them! But if we're honest, most of us don't follow through with the goals we set at the start of the year. One study found that less than half of those who made resolutions were still sticking them by June.  
But this doesn't stop people from making resolutions or encouraging their kids to do the same. In a recent Clay Center survey of 750 parents nationwide, six out of 10 parents said they wanted their kids to make New Year resolutions.  
Using the new year to make new changes we've been putting off does seem like a good idea. But when we can't get the outcomes to match our intentions, we can't help but ask why this is the case and what we can do differently to better meet our goals.  
On a recent episode of Shrinking It Down: Mental Health Made Simple, Dr. Gene Beresin and Dr. Ellen Braaten explored these questions and tried to think about how kids, teens, and families can turn resolutions into realities.  
Tune in to their conversation here, or download wherever you get your podcasts.

Why don't they work? 
According to Gene and Ellen, many resolutions don't work because they're too vague. Resolving to get better grades or be less stressed are great ideas, but they don't provide a way to get there. Without establishing specific steps to improve your grades or reduce stress, how will your child make concrete changes to reach your goal? How will you know if you've made progress?  
Resolutions are big challenges to tackle, and overcoming them requires small changes to our daily lives. It's easy to get lost in the big picture. Not knowing where to start, not seeing the progress we were hoping for, and then feeling disappointed that the new year hasn't brought the changes we set out to reach causes many to abandon the mission that was so important to them just a few months earlier. It's a common trend that even kids will notice by watching their parents, even if they don't explicitly talk about it.  
Kids will follow the example set by their parents: 
"If they don't do their resolution, why should I?" 
"How important could it really be?" 
"When am I going to have time to do this?" 
These are questions your kids might ask themselves about their resolutions, and they're fair questions to ask. But when they go unanswered, you've got yourself a recipe for resolutions that just won't be resolved.  
When we don't meet our resolutions, it's important to remember that failure is part of learning. It makes us stronger, helps us understand what does and doesn't work for us, and prepares us to bounce back when we fail in the future. We call this sort of mental toughness resilience, and it's a trait that helps us throughout our lives.  
What can we do better? 
Even if flopping on our resolutions isn't the end of the world, it's still more fun when we defeat the challenges we set for ourselves. In fact, focusing on the fun more than the feat is a great place to start! Ellen argues that many resolutions are too serious and that if we're having fun in the process of reaching our goals, we'll be more likely to stick with them.  
In addition to involving some fun, promising new year's resolutions should include: 
Clear and simple steps

.

 

Instead of resolving to 

simply

 

de-stress, set 

aside 

time 

in your schedule to

 have a cup of tea, read your favorite book, 

or limit the number of extracurricular activities each term

. 

Instead of resolving to get better grades, plan to study for one hour each night. 

Small changes

 that fit into our daily routines are easier to manage, and they give us the chance to try different things

, 

figure out what works best

, and 

modify 

our plans accordingly. 

 

A written contract

.

 Well, sort of. A legally

 

binding document wouldn't be very fun

.

 

B

ut

,

 having a record of the steps you'd like to 

reach

 and a measure of

 your progress will 

help 

your child

 

and family 

stick with it and get those boxes checked off

.

 Posting pictures of your goals and the steps you complete to

 reach

 

them

 on social media can be a fun way to keep tabs 

of how far you've come, and

 

what you have left to. It's also a great way to share your goals 

and gain additional 

support, and

 see how others are doing with their own goals

. Just be careful not to get lost in the endless stream of updates!

 

Conversations

.

 

Talking about

 

goals, progress, what's working, and what isn't 

working 

with 

your child or the whole

 

family is the best way to stay on top of resolution

s

 and support each other in reaching 

both

 

individual and shared goals. 

Working together is key

, and sharing the challenges and successes with your loved ones will bring everyone closer together. 

 
If you're feeling overwhelmed by all this talk of goals and contracts and strategies, you're not alone! We all get a bit flustered when we ask, "How can I make my life better?" 
Here's a place to start that might make things easier for you and your family: 
Pick a word. 
Just one word. That word will be the theme of your resolution. Your new year could be the year of love, kindness, self-care, friendship, respect, peace – you decide! Talk with your loved ones about the change you'd like to see as a group, and then pick a word that describes how to make it happen. Words carry different meanings for different people, so discuss what the word means to each of you, then decide what small things you can do (personally and as a team) to bring your word to life.  
And remember to write it down. Or type it out. Or make a sign. Or make a spreadsheet, or a calendar. Do what works for you, as long as you have something to look back at if you get lost as the year goes on. Use this as a way to track your progress, analyze missteps, and refine your approach to the goal.  
No matter what road to resolutions your child takes, he or she is bound to miss some steps along the way, and that might bring temporary discouragement. But meeting a goal is ultimately a rewarding experience, especially if there's fun in the process. The task alone might not be very exciting, but mixing in something you enjoy will make it easier to start and quicker to finish. It's like listening to music while washing dishes – a chore-time sing-along is sure to make that mountain of plates in the sink disappear more easily.   
And is there anything more beautiful than an empty sink?   
Was this post helpful?
Let us know if you liked the post. That's the only way we can improve.
Newsletter
Subscribe Today
Your monthly dose of the latest mental health tips and advice from the expert team at The Clay Center.
Subscribe
Multimedia
Quick Jumps
Tag Cloud