Using the Power of Narrative to #StopSuicide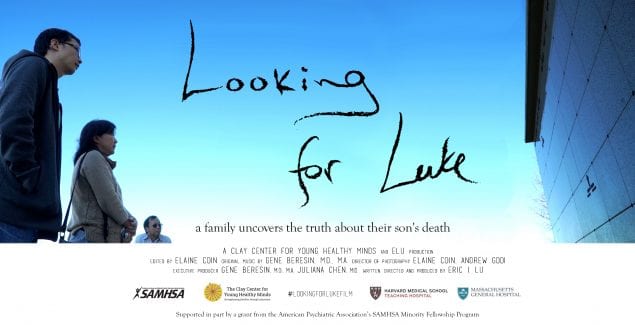 Posted in: Parenting Concerns
Topics: Depression, Mental Illness + Psychiatric Disorders
Increasing public awareness of suicide is not an easy task. To truly grapple with the issue, we have to face some difficult and painful feelings. For these reasons, when we at the Clay Center collaborated to tell the true story of a young sophomore at Harvard named Luke, who tragically took his own life, we decided to turn to film. A film called Looking for Luke.
But why is it so important to tell this story? Why not create a pamphlet highlighting the epidemiology of suicide (i.e., the science behind it) and how to prevent it from happening?
Do we need to tell Luke's story? Yes, we do.
We need to tell Luke's story because we believe that narrative is key to building empathy and understanding. Much of the difficulty in grappling with the concept of suicide often stems from people's inability – or perhaps even unwillingness – to consider suicide in terms of an individual's unique narrative. Once we open ourselves up to another human being's personal, relatable experiences, we can begin to understand what leads to suicide.
On the outside, Luke was a "sunshine boy" in the process of achieving his goals and dreams. He was mischievous, full of energy and extremely silly, as well as a U.S. Presidential Scholar, concertmaster for his region's youth orchestra, and salutatorian and student of the year for his graduating high school class. Seemingly the best of the best. But after his sudden death, Luke's parents read through his journals and talked to Luke's friends to discover what he was struggling with on the inside.
Some might ask themselves whether the story behind someone's suicide is best heard at all.  What if hearing it makes the subject of suicide too raw to be contemplated?  What if sharing the story romanticizes suicide?
The occasional avoidance of delving into personal experience when it comes to suicide goes beyond the average person on the street. Sometimes it's even on the part of health care practitioners. Perhaps in an attempt to avoid the pain of these kinds of thoughts, we sometimes hear clinicians say they have "diagnosed suicidality." In other words, they avoid the personal narrative of the suicidal thoughts: another case of simplifying suicidal thinking in order to make it less personal. This defensive maneuver might rescue us from painful emotions, but it also misses an integral opportunity. To understand suicide, we need to understand an individual's story.
It's true – the story told in Looking for Luke is heart-wrenching.
But it is also funny and warm and immensely emotionally evocative. To understand Luke – and to use his story to understand what leads to suicide – we need to allow ourselves to experience all of these feelings.
Viewers of the film will find that Luke is questioning the meaning of his own existence. He is wondering about his faith. He is forming friendships and contemplating his responsibilities to his friends.  He is suffering from depression. In other words, Luke is human. As such, his triumphs and trials are familiar, and universal, even as they remain unique to Luke himself.
Like many families reeling from a suicide loss, Luke's loving and caring family struggles with how best to make sense of their son's struggles. Having lost their son, they expose themselves to the vulnerabilities he faced, and open themselves up to possibilities they hadn't considered before.
In a sense, Luke's story becomes their own, as they search for meaning while taking a journey through Luke's past: one that opens their eyes and hearts to the realization that depression is a treatable, mental illness.
It is our hope that through this identification we can raise awareness to the issue of suicide in all populations.
Thinking about what goes into a person's suicide is never easy.  We might even be tempted to oversimplify the experience in order to tolerate it.  Luke took his own life.  Why not just leave it at that?
As we hope this film demonstrates, we choose not to oversimplify because there's so much more to the story. To raise awareness, we need to understand Luke, and to understand Luke, we need to find him—and the family and friends that knew and loved him—within ourselves. We are, quite literally, looking for ourselves. We are, at the end of the day, all of us, Looking for Luke.
To view a trailer of the film and learn how to attend a screening, click here.
***
For more information on how to support children and teens following a suicide loss, see AFSP's Children, Teens, and Suicide Loss booklet, written in partnership with the Dougy Center, The National Center for Grieving Children & Families.
Schools seeking best practices for healing after a suicide loss in their community can look to AFSP's After a Suicide: A Toolkit for Schools, produced in collaboration with the Suicide Prevention Resource Center.
A version of this blog was originally posted on the American Foundation for Suicide Prevention's website. 
Was this post helpful?
Let us know if you liked the post. That's the only way we can improve.
Newsletter
Subscribe Today
Your monthly dose of the latest mental health tips and advice from the expert team at The Clay Center.
Subscribe
Multimedia
Quick Jumps
Tag Cloud