Music For Autism Is Music For All: Reshaping And Expanding A Disability-Friendly Space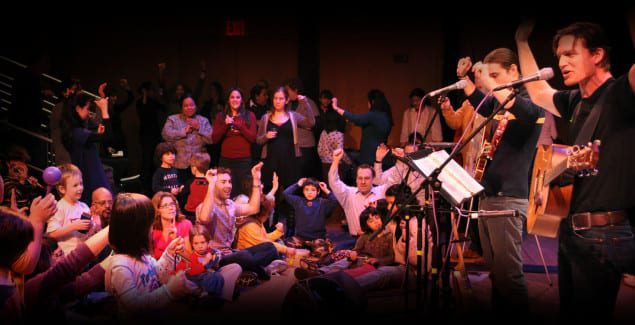 Posted in: Grade School, Podcast, Teenagers, You & Your Family, Young Adults
Topics: Autism Spectrum
Intro and outro music written and performed by Dr. Gene Beresin.  
Linda Rodgers Emory, daughter of the great American composer Richard Rodgers, writes in one of her poems that, "Music for Autism is music for you!" She is the Honorary Chair of the Music for Autism Board of Directors, so it is no small thing that the descendant of an American music icon supports and praises the mission of the organization. In fact, better than any introduction, this single line captures our main objective. Music for Autism seeks to create an accepting and judgment-free space for people with autism and their families. As Ms. Rodgers so succinctly stresses, however, this kind of endeavor need not be limited to children and families facing the challenges of autism; all children and adults, irrespective of the challenges they face, should experience the freedom and healing power that music affords.
I (Robert) founded Music for Autism while a medical student in New York City, inspired by work I had done with our (now) sister organization in the United Kingdom. Our concept is simple; yet, like many "simple" notions, the idea is too often overlooked by the rest of society. At Music for Autism, we want individuals with autism and their families to enjoy the freedom of music in its most pristine form; that is, we want these individuals to come for the music, and not merely because they have autism. Why this distinction? Think about the unique challenges that families with autism face.
Families impacted by autism spectrum disorder (ASD) contend with children who exhibit behaviors that may be misunderstood or considered disruptive in public spaces. These misjudgments occur even more poignantly in part because children with autism appear physically "typical." In other words, bystanders are even more surprised to see what they assume to be a "typical" child behaving in a socially atypical way. In many instances, and certainly in well-documented studies, bystanders assume that the behavior they're witnessing results primarily from "bad parenting." Consequently, many families who have a child with autism simply avoid public spaces altogether.
Due to such challenges, what most of us might regard as ordinary tasks can become onerous ordeals for these families. Spontaneously picking up a quart of milk from the grocery store or going out to eat without thorough preparation may lead to significant behavioral dysregulation in the family member with autism. Many of these families would never consider a family outing to a baseball game or theatrical performance.
However, Music for Autism was initiated to utilize the beauty and sensitivity of musical and theatrical performance in a manner that engages individuals with autism in a predictable, reliable and socially-accepting situation. In short, our goal at Music for Autism is to create an extraordinary and interactive musical concert in a judgment-free environment.
The experience begins well before the actual performance. Families receive what we call a social story. This book comes with instructions on how to use it, and helps families rehearse for the experience of the concert and its interactive components. In this way, families can prepare for events that are made inherently more predictable. We also have an interactive musical zoo on our website that allows concert participants get used to some of the sounds they might hear at the event.
When families arrive at the concert venue, our goal is for the spirit of acceptance to commence from the moment they enter the building. Trained volunteers greet and orient families to the physical space, and help concert participants to their seats. During the concert, one volunteer is assigned to every two to three families. Our volunteers ask their designated families how they can make the concert as interactive and enjoyable as possible for the family member with autism, and then we tailor the experience to suit that participant's individual needs. At specific parts of the concert (as outlined in the social story received beforehand as well as a concert schedule visible for the duration of the experience), concert participants learn how to conduct the performers, and play along with soft percussion instruments. Audiences are taught to show their appreciation through soft clapping (patting their knees) to bring down the noise level and make the space more sensory-friendly. Unlike a conventional concert, there is no wall between audience members and performers; audience members are free to move throughout the venue and participate in the music-making in whichever way they feel comfortable.
We ensure that our artists—which have included Tony Award winners, a Pulitzer Prize winner in music and Grammy-nominated classical musicians—are well prepared. Sometimes a child might sit quietly and enjoy the performance, while another leaves his or her seat to dance in the aisle. Perhaps a child might sit next to the pianist performing, and another leave during a musical number to take a break. As long as no person or instrument is adversely affected, we welcome all responses to the live music, and our volunteers are trained to ensure that all in attendance remain safe. Finally, our concerts (as well as the healthy snacks provided) are free, placing these events among the most socioeconomically-diverse, "autism-friendly" programs in the country.
Since introducing our programs in New York City in 2007, we have expanded across New York State, Texas, California and Maryland. Though these programs have helped symphonies, religious services and Broadway shows become more broadly accepting of those with autism, we still have a long way to go. Many families still feel excluded.
However, the families we have been able to reach make this ongoing struggle immensely rewarding.
"The Music for Autism concert was the first time I can say that we felt truly welcome at a musical concert—or anywhere for that matter! Not once did I have to explain my nine-year-old son's behavior. How relaxing!"
These words, spoken by a grateful mother of one our participants, are the fuel for our endeavors. Music is a universal language; it brings us together and gives us hope. Ultimately, Music for Autism strives to make the community of music available to everyone.
To learn more about Music for Autism, visit http://www.musicforautism.org/.
Was this post helpful?
Let us know if you liked the post. That's the only way we can improve.
Newsletter
Subscribe Today
Your monthly dose of the latest mental health tips and advice from the expert team at The Clay Center.
Subscribe
Multimedia
Quick Jumps
Tag Cloud