Admissions Scandal, College Pressure, and Mental Health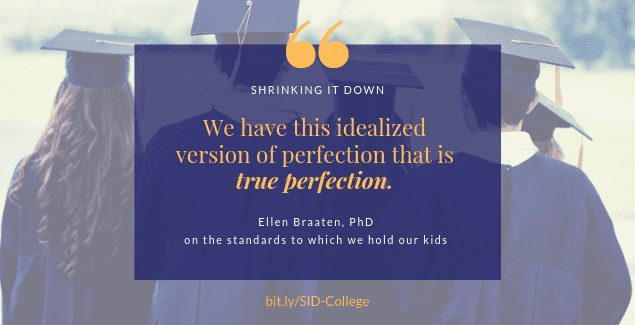 Posted in: Podcast
Topics: Culture + Society, Stress
You can also listen to this podcast on iTunes, Spotify, Google Play, Stitcher, TuneIn, SoundCloud, and most podcast apps – just search for "Shrinking It Down."
On today's show, Dr. Ellen Braaten joins Gene and Steve to think deeper about our American culture that's contributed to issues like the recent college admissions scandal, as well as less extreme (and less fraudulent) measures we take to ensure our kids succeed at a level that's far above-average. What message does it send to young people today when we have expectations of true perfection, or go as far to take actions to suggest they're not good enough to succeed on their own?
We'll discuss this and more. Write to us with your thoughts!
Media List
Technical direction provided by Andrew Bergner
Episode edited by Sara Rattigan
Music by Gene Beresin
Special vocal solo by Ellen Braaten
Was this post helpful?
Let us know if you liked the post. That's the only way we can improve.
Newsletter
Subscribe Today
Your monthly dose of the latest mental health tips and advice from the expert team at The Clay Center.
Subscribe
Multimedia
Quick Jumps
Tag Cloud