Simone Biles – Choosing Mental Health Over Defending Olympic Gold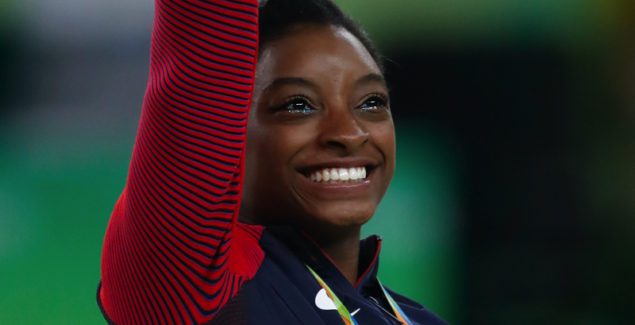 Posted in: Hot Topics
Topics: Culture + Society
This piece on Simone Biles is one in a series by Dr. Uchida on athlete mental health. Watch more with figure skater Mirai Nagasu, and read more on tennis player Naomi Osaka.
Simone Biles shocked the world when she withdrew from the Tokyo 2020 Olympics Team event after completing her vault performance, and eventually pulling out of her individual all-around competition as well. She discussed that her emotional health is the reason for her withdrawal. Her teammates stepped up to unexpectedly perform instead of her, and the team won the Silver Medal.
As a child and adolescent psychiatrist, while I continue to be worried about Simone's well-being and whether she is getting the support that she needs in Tokyo right now, I was moved to see such a groundbreaking scene: One of the most respected athletes in the world just prioritized her own mental health over defending her Olympic Gold.
The Responsibility of Being GOAT ("Greatest Of All Time")
Simone Biles won a total of four Olympic Gold medals at the previous Olympic games five years ago, when she was still a teenager, and has been repeatedly solidifying her status as the best female gymnast of all time by pushing the sport with new and creative routines that were reported that even the judges didn't know how to score. Her hard work and success has earned her the title of GOAT – "Greatest Of All Time" in gymnastics. For her, there was an expectation where the Gold medal, and only the Gold medal, would represent success. She also carried the heavy responsibility of representing her race, her gender, and her community, as well as the expectations of her various sponsors on her shoulders. We forget how young she and other athletes are, but Simone is only 24 years old. She has been in this position since she was a teenager – a time when our brain is still massively in development and when it is difficult to gain perspectives outside of the immediate expectations we perceive from our surrounding adults.
USA Gymnastics Turmoil & Trauma
Speaking of some adults who had surrounded Simone in her developmental years, USA Gymnastics, the national Gymnastics organization in the United States, has been required to undergo major restructuring of personnel and priorities. A group of brave women and girls spoke up about how their Team USA doctor, Larry Nassar, had been sexually molesting hundreds of young female gymnasts for years that was enabled by the organization that hid previous reports on his abuse. How these survivors of sexual abuse stood up for themselves and for the younger generation made an extremely positive impact on women and girls' rights across the country; but the positive impact on society does not take away the long-lasting emotional impact of trauma that the victims continue to be forced to grapple with. Not only does the trauma of the abuse itself have persistent impacts, but also the helplessness that these youth feel when they cannot trust their caregivers. How the USA Gymnastics Team, who should have been in the position of protecting the athletes did not prioritize their wellbeing and safety must have been detrimental to many of the victims. Simone Biles has disclosed that she is one of the survivors of his sexual abuse. 
The Pandemic Olympics
The 2020 Tokyo Olympics has been such an atypical event due to the global COVID pandemic, and since her withdrawal, Simone has expressed how hard this past year has hit her. I am sure the athletes and fans have deep appreciation for the fact that the Olympic could be held in this condition, and so many athletes have commented about the warm hospitality of the local volunteers and staff at the Olympic village. At the same time, some athletes have commented how unwelcome they've felt with the overwhelming opposition in Japan to holding the Olympics during the pandemic. Due to infection prevention, the event is done without an audience and no family members were allowed to come to Japan, and many athletes have voiced isolation and loneliness without their support system and the crowd to celebrate their successes with. In addition, the games were postponed by an entire year. It is unimaginable how much psychological strength they were required to adjust their physical peak and mental motivation, and needing to train for another year while not even knowing whether the games would happen. Everyone is tired and stressed while trying to survive the pandemic, and the athletes are no exceptions.
Race, Gender, and Body Image
Simone Biles is also a Black woman competing in a sport that continues to be organized by a majority of Caucasian personnel. Many people have praised her muscular physique that shows the hard work she's devoting to her sport and allowing her to perform in the ways that are legendary. Yet, some commentators, and others, have made negative statements about her body and "muscular arms." Somehow, female athletes get overwhelmingly more comments that judge their appearance compared to their male counterparts. This is often worse for girls and women of color, as most narrow standards of beauty are made from traditional Caucasian standards – which actually also burdens Caucasian women. In this Olympics, the German Team expressed their opinions on how the leotards contribute to sexually objectifying female gymnasts and showed up in ankle length unitards. These matters point to the fact that there is much to overcome just to exist as a Black woman in this sport.
Prioritizing Her Mental Health
Considering all of the above, it is remarkable that the best gymnast in the world was able to make a decision to prioritize her mental health and lean on her teammates. Simone had voiced how she could not focus on her routine while grappling with this emotional instability, and she felt she could get seriously injured if she were to continue to compete in that state. While we still have a long way to go, the fact that Simone was able to make this decision for herself and for her team shows how much progress we've made in mental health. The path was paved by previous strong athletes who had advocated for the athletes' mental wellbeing – most recently, Naomi Osaka, who withdrew from Grand Slam events when the competition did not grant her wish of modifying the media expectations for her while she dealt with bouts of depression and anxiety. Little by little, mental health awareness is improving, and it can be good not only for athletes, but young people everywhere. 
Thank you, Simone, for your advocacy! Congratulations on winning this special Silver Medal!
Was this post helpful?
Let us know if you liked the post. That's the only way we can improve.
Newsletter
Subscribe Today
Your monthly dose of the latest mental health tips and advice from the expert team at The Clay Center.
Subscribe
Multimedia
Quick Jumps
Tag Cloud