Would You Allow Your Child To Play Football?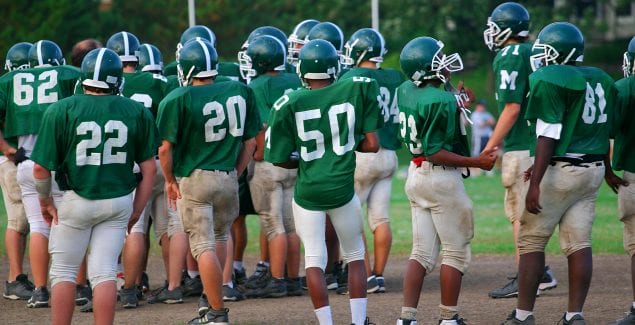 Posted in: Parenting Concerns, Teenagers, Young Adults
Topics: Culture + Society
Here in New England, it's getting just a little bit cooler. The shadows are growing longer, and there's the tiniest sting to the morning breeze. I know that in other parts of the country it's still pretty hot, but I bet folks are realizing some kind of change in the air.
After all, fall is just around the corner. With the first breaths of autumn, we can sense it. The rhythmic pop of a hardball in a mitt and the crack of the bat in baseball diamonds will soon be replaced by bare-armed men in sub-zero weather going to battle on the gridiron.
It's football season, again.
On a recent morning, I left for work early and saw my local high school football team taking a knee around their coaches. We start school in September in the Boston suburbs, so the players were still in the midst of dreaded two-a-day practices, their cut-off shirts drenched in sweat, one or two of them having certainly puked during the first set of wind sprints to ring in the season.
I can't help but to feel nostalgia. The smell of freshly cut grass. The red-tinted leaves. The sound of pads popping. I loved playing football. The game and all its craziness was without question integral to my interpersonal development. I can't prove this of course. I can't run the proper experiment to know this for sure. I can't go back and see if I would have turned out the same had I not devoted seven falls of my youth to this sometimes-barbaric game.
---
"There are no easy answers, so I need to be clear that whether or not you as a parent choose to let your child play football is a uniquely individual decision."

 
---
If I could go back, though, I think I'd still play, knowing how much it meant to me to be on that team. But we who love football are in the midst of a genuine crisis. It's impossible to ignore the data. I'm a physician, and I've seen kids with concussions so bad that they can't look directly at light for weeks. They feel depressed, foggy and they're plagued by headaches. Even worse is the fact that no one knows for certain what the long-term effects are from the repetitive contact in football.
I was hit so hard once in a high school game that after I was awakened with smelling salts, I made my way to the sidelines and sat confusedly on the other team's bench. I went back in the game about five minutes later.
That's not OK.
We used to write that off as "getting your bell rung," so this isn't an indictment of my coaches or even of the game itself. It's a recognition of how much things have changed and of how conflicted we in America have appropriately become about this sport.
As noted in a recent commentary in the medical journal Pediatrics, there's no consensus among sports pediatricians on football. Some argue against the game. Some argue for it. But all argue for caution.
To be sure, this is largely an academic debate for me. The only skin I have in the game, so to speak, is professional, not parental. I have daughters, and at least in my town, girls are not yet playing football. But I was so bothered by what I might do if I did have to face this decision that I conducted an informal survey last year. I contacted my pals from high school. I went to a big school, and we had more than a few guys who went on to play in college. I played against Rodney Peete, the now-retired NFL quarterback. We were good, and we were into it.
Virtually everyone I spoke to last year had allowed their sons to play. My high school had even recently won the state championship, and believe me, where I grew up, that's a very big deal. Many of my friends' sons played on that team. Only one person, another physician who had himself been an outstanding athlete, was opposed; and I could hear the struggle as he came to grips with this conclusion.
Look. I could wax poetic about team camaraderie. A lot of research has been done and much has been written on the power of American high school football to unite and divide communities. I could argue that we could change the culture so that football won't occupy the place it does for much of the country. But for now, in the U.S., more boys play football than participate in any other sport. I could point out that worldwide there are more head injuries from cycling, but that's not the case among American teens. There are no easy answers, so I need to be clear that whether or not you as a parent choose to let your child play football is a uniquely individual decision.
Having said all of this, there are some general guidelines and considerations parents should keep in mind. For example:
Don't allow kids to play tackle football until age 14
Tag or flag football is fine. There's nothing magic about using 14 as the cut-off for tackle football. It's just the best prediction of the time that puberty has strengthened the neck such that the brain doesn't get rattled after a kid's head gets slammed to the ground or against another helmet. I know that this bit of advice likely won't be taken by all; I started playing when I was 11, and Pop Warner is still going strong. But this is a fairly universal recommendation.
If you played, your child may also want to play
Sit with your children and make sure that they want to play for their own sakes. They don't need to earn your respect by playing football. There's even some suspicion that kids who are forced to play have worse outcomes.
Know what your league is doing to make the game safer
How often does the team conduct hitless practices? How vigilant and proactive are coaches and school officials in teaching proper tackling techniques? How likely is it that a player will be taken off of the field by coaches if there is concern for the player's safety? Schools and leagues should prioritize making youth football safer by ensuring everyone on the field takes precautions in line with recommendations from the American Academy of Pediatrics.
Don't take chances with concussions
If you, a coach or another adult has any concern at all that your child has sustained a concussion or even just seems a bit "off," get your child off of the field. Kids who have had a concussion – or even who are just suspected of having sustained a concussion – need to take at least a week, and most argue for two weeks or longer, away from the game. The risks of head injuries are hard to determine and ever-present. It also turns out that successive concussions are cumulative. That means that the second concussion suffered in a game will be more severe than the one before it, even if the hit occurred with the same intensity. It's just so much better to be safe.
I still think that football gave me something good, and I'll never know if that same something — the teamwork, camaraderie and the notion that you've pushed yourself to your limit — is something I could have gotten in another endeavor.
But I also know the game has to change. Hitless practices have to become more common. Technology has got to improve. Keep an eye out for these changes, and lobby for them in your community, even if your child isn't playing. A healthy community is good for everyone.
And enjoy the start of another autumn.
– A version of this blog was posted by the author on the U.S. News & World Report's "For Parents" Blog.
Was this post helpful?
Let us know if you liked the post. That's the only way we can improve.
Newsletter
Subscribe Today
Your monthly dose of the latest mental health tips and advice from the expert team at The Clay Center.
Subscribe
Multimedia
Quick Jumps
Tag Cloud