Listen To Your Kids, But Not Necessarily To Their Music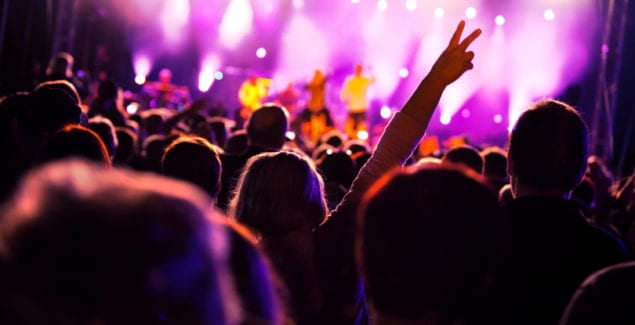 Posted in: Parenting Concerns
Topics: Child + Adolescent Development, Relationships
My first big concert was Foreigner. I can't recall who opened for them, but I remember that it was loud.
My feet stuck to the half-dried beer that was splashed across the concrete floor of Kemper Arena in Kansas City, Missouri. I wore a red flannel shirt, the top three buttons unfastened so that my golden chain could be seen and admired. My jeans must have been tight – no baggy pants back then – I wore white tube socks pulled up just below my knees, and over those priceless socks I donned tightly laced beige Nike sneakers.
Mostly I remember a girl named Julie. She was my friend's older stepsister, and though I was no fan of Foreigner, I was, absolutely, a fan of Julie. I was totally willing to tolerate those cheesy Foreigner lyrics if it meant I got to sit near her at the concert.
In retrospect, I neither enjoyed the concert nor the attention of Julie. But, only 15 years old at the time, I was just happy to check off a box – to have gone to my first big concert.
Growing Up With Music
Because I love music and have written about music, and because I practice child psychiatry and am a parent, I'm often asked about the appropriateness of concerts for kids. I get questions regarding whether it's OK for a child to see a certain band or attend a particular music festival. Then parents reassure me, "I've looked up everything about the band online."
I know, I say to myself. I've done the same.
When parents tell me that they've read the lyrics of a band that their teen is going to see by searching for that band on the Internet, I find myself again thanking the gods of technology that my parents didn't have access to that kind of material. Not that my parents were exactly up to speed with any of the musical movements that characterized my youth. My dad once heard my friends and me listening to Bob Marley and informed us that this kind of music was called Ragu. "That's a tomato sauce, isn't it?" my buddy whispered. In truth, we weren't exactly sure what Reggae was, either, but we knew it wasn't a brand name spaghetti sauce.
That's of course the way it should be.
Parents don't know their kids' music nearly as well as kids know their own music, and kids don't know their own music nearly as well they think they do. That's one of the main things that kids talk to each other about.
Legions of parenting and developmental scholars like Dave Miranda have noted the fundamental role that music plays in the development of teens. Importantly, there is virtually no consistent data suggesting music as a primary cause for antisocial behavior.
Who among us didn't differentiate and separate from and ultimately rebel against our elders, all to the sound of a distorted guitar? I've written with colleagues about the antiheroes of popular music. Kids need those antiheroes, and they need those antiheroes to belong to them.
Kids don't necessarily want us to be part of their music. They want to distinguish themselves from us through their music. They want to be different. In a funny twist, I have a colleague who followed the Grateful Dead and whose children therefore torture him with classical music. These pins are not meant to line up.
My advice? Let the kids go to their concerts. Make sure the venue is safe. Make sure they have a ride home. Tell them they need to be careful. Unless the band is truly horrifically objectionable, remember that this is all part of the game.
Then, sure, have a go at a discussion, but don't get too specific at first. Ease into it. "Where's this band from?" "What's their background?" "Who's driving?" "Let me know when the concert is over." You can even ask about musical genres. I've learned from my patients and my kids about all types of music – from death metal to blue-eyed soul and Gangstagrass.
If those gentle inquiries gain any traction, you might see if your kids will talk to you about particulars, such as why they like this band or that song. But don't be too worried if they don't really want to discuss these kinds of things with you.
This is the music that they'll try to force on their own kids when they become parents. That's part of the great circle of things. And for us parents? Well, let me put it this way: I've seen more shows at the Wang Theatre here in Boston than I have in a bar or an amphitheater. These shows have titles like "An evening with …" or "PBS presents …" They start at 8 and end promptly at 10.
I'm too old for whatever takes the place these days of those tacky high decibel Foreigner lyrics. "Better Call Saul" will be on Amazon when I get home. And I'll go to bed at a reasonable hour.
-As originally published in US News & World Report – For Parents.
Was this post helpful?
Let us know if you liked the post. That's the only way we can improve.
Newsletter
Subscribe Today
Your monthly dose of the latest mental health tips and advice from the expert team at The Clay Center.
Subscribe
Multimedia
Quick Jumps
Tag Cloud