Shrinking It Down: The Death of a Pet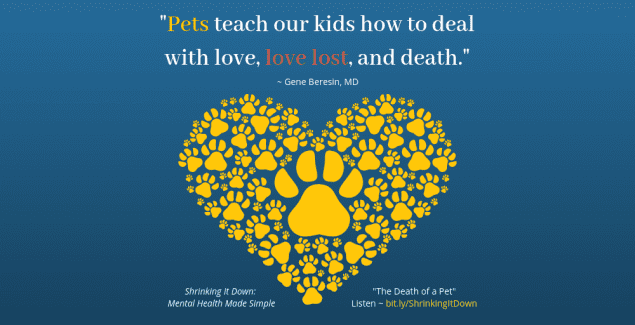 Posted in: Multimedia, Podcast
Topics: Relationships
You can also subscribe to this podcast on iTunes, Google Play, Stitcher, and TuneIn.
***
Last season, we talked about the benefits of pets for our kids' mental health. That unconditional love helps our children to build skills and navigate important life lessons. What we don't tend to think about, though, is that one day our pets will be gone. When that happens, do we try to shield our kids from the pain? Would it have been better not to have a pet at all?
In this episode of Shrinking It Down: Mental Health Made Simple, co-hosts Gene and Steve kick off our new season in celebration of our furry (and non-furry!) friends. They point out that while losing a pet is really, really sad, it doesn't have to be grim. And even after they're gone, our pets can help to guide our children through one of the biggest challenges we all face at some point in our lives: the loss of a loved one.
Thank you for joining us in this journey and conversation. If you have a question or comment about pets that we didn't cover, we'd love to hear from you! Write to us here.
Media List:
Episode edited by Sara Rattigan
Music by Gene Beresin
Was this post helpful?
Let us know if you liked the post. That's the only way we can improve.
Newsletter
Subscribe Today
Your monthly dose of the latest mental health tips and advice from the expert team at The Clay Center.
Subscribe
Multimedia
Quick Jumps
Tag Cloud