The Clay Center Launches Multimedia Effort to Promote Mental Wellness Among Youth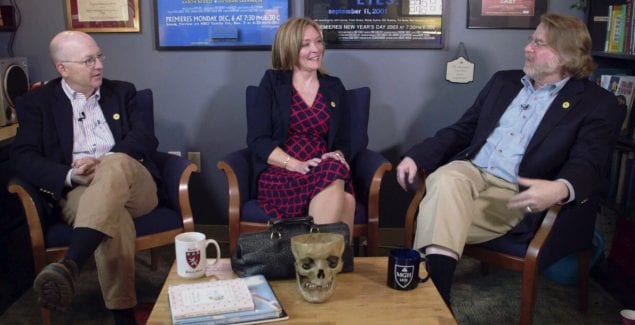 Posted in: Hot Topics
Topics: Child + Adolescent Development, Mental Illness + Psychiatric Disorders
New film series and video podcast promote conversations to shift the social landscape of mental health
FOR IMMEDIATE RELEASE
BOSTON, Mass. – With an estimated 75 percent of mental health conditions developing before age 25, and 50 percent beginning before age 14, The Clay Center for Young Healthy Minds at MGH has launched a multimedia effort to initiate an important and ongoing conversation about mental health. Through a new series of short films and video podcasts, The Clay Center will provide practical and engaging guidance to support the mental, emotional, and behavioral wellbeing of children, teens, and young adults.
The series of five short films and season one of the video podcast "Shrinking it Down: Mental Health Made Simple" are now available at mghclaycenter.org.
"We recognize that video is the most powerful and popular platform for bringing information to parents and young people. We have created these productions to raise awareness about mental health, and to help de-stigmatize mental illness, while inspiring parents and families to get more involved and ask more questions about the whole health of children in their lives," said Gene Beresin, MD, executive director of The Clay Center.
Beresin said one in four individuals will experience a mental or neurological disorder during the course of their lifetime, and a majority of these disorders begin in childhood, adolescence, or young adulthood.
"There are real reasons why a child may be struggling," adds Ellen Braaten, PhD, associate director of The Clay Center. "Learning, emotional, and attention issues are brain based and not due to motivation, lack of effort, laziness, or not caring enough. Changes in brain chemistry cause kids to feel depressed. For example, kids with dyslexia process language in a different way from kids without dyslexia and they need a different way to learn to read. Some kids are slower to process information and need time or strategies to be more efficient learners."
Without education and intervention, The Clay Center posits that mental illness can lead to children and teens missing school; parents missing work; and increased costs to families and caretakers, both financially and in terms of time and emotional energy.
"Intervening early with these issues has huge downstream benefits.  People are more productive and enjoy substantially better overall health for themselves and their families. These benefits persist throughout the entire life span, and literally hundreds of studies have shown this," said Steven Schlozman, MD, associate director of The Clay Center. "Still, the best reason to take this action is clear.  It's the right thing to do, regardless of the economic benefits.  It's just not OK for people to suffer as much as they do from these illnesses, and we think better education and awareness can help."
The Clay Center has partnered with California-based filmmaker Eric I. Lu to produce a series of short films on topics such as mental illness in kids, parental regret, and recognizing great strengths in children and teens with varying abilities. A new short film will be released every three months.
The first film in the series, "Can Kids Get Mental Illness?" explores public perceptions of mental health and learning and attention differences among young people. The film aims to initiate a broader community conversation about social norms, stigma, why early intervention is needed, and what we can do to nurture healthy minds in children, teens and young adults.
In addition to the short films, The Clay Center also debuted season one of its new video podcast, "Shrinking it Down: Mental Health Made Simple," directed by local filmmaker Michael J. Dillon. The video podcast, co-hosted by Beresin and Schlozman, will include frequent guests as it delves into topical discussions of issues ranging from depression and anxiety, to the influence of digital media.
For more information about the series of short films or to watch the first episode of the video podcast visit mghclaycenter.org.
###
About The Clay Center for Young Healthy Minds
The Clay Center for Young Healthy Minds is a practical, online educational resource dedicated to promoting and supporting the mental, emotional, and behavioral wellbeing of children, teens, and young adults. To learn more, visit mghclaycenter.org.
Was this post helpful?
Let us know if you liked the post. That's the only way we can improve.
Newsletter
Subscribe Today
Your monthly dose of the latest mental health tips and advice from the expert team at The Clay Center.
Subscribe
Multimedia
Quick Jumps
Tag Cloud