Journeys On Our Own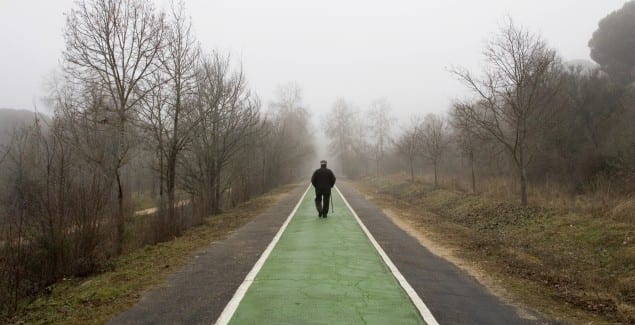 Posted in: You & Your Family
Topics: Real Lives Real Stories, Relationships
This blog post is part of a series entitled Real Lives, Real Stories: Personal Experiences With Mental Illness.
Note: The following person's account of his/her personal experience has been published with his/her consent to support the mission of The Clay Center for Young Healthy Minds, and let others in similar situations not feel so alone.
Introduction
Gene Beresin, M.D.
The life and work of a therapist is not easy. At times we share the emotional burden of those we help when things go terribly wrong. But, we also share the delight when things go well. We travel their roads with them—as partners in an ongoing narrative that is never really complete.
I worked with Brian Ibsen* for many years. First, I met with him in an attempt to sustain a marriage that ultimately failed. I later met his three boys, spending some time with each. But most of all, I spent my time with Brian.
Losing his father who died suddenly when he was 31 was just one of many losses for Brian. Perhaps most painful is the story we see here, one many other parents share: having a child who is resistant to change (in this case addicted to drugs), despite many failed efforts by his dad and others. No one would wish this on anyone, yet many parents will immediately understand his journey.
What strikes me most of all here was Brian's need to emotionally let go. And, at times, he did. There are some things no one can change. But, did he really let go? I'm not so sure. He keeps searching for his son, and not unlike his obsession with MH 370, there is always hope—always a chance. Brian is resilient, and can even find humor in the face of a tragic story. He has never given up his dream for his sons, but he is realistic; he understands his limitations, and is ever poised to facilitate change, no matter how many times he has felt disappointment and loss.
This story, sad as it is, speaks to the hope faith, and resilience we all need in our journey.
* The author, Brian Ibsen, has given permission to reveal his relationship with Dr. Beresin.
 ***
Journeys On Our Own
Brian Ibsen
In early March 2014, I became obsessed with something that wasn't there—Malaysian Airlines flight MH 370. I'm not the only one, but at a certain point I noticed how my own compulsive news seeking amounted to nothing. Turning back again and again in anticipation of something new, focusing on report after report from The Guardian or CNN, resembled the great obsession of my life: what happened to my middle son. In his case, he is not lost, he is still alive, but he's struggled with drugs since he was 14—and I don't really know why. So far his episodes of recovery are like the news reports on MH 370: intense scrutiny of little facts that don't add up to a real story. At one point, or rather a series of points, the plane and my son got drastically off-course, leaving me stuck in the depths of loss.
I wrote a poem in 1995, weeks before dropping him off at a private treatment center in the Berkshires, which captured for me the realization of that loss. Early that November, I had gotten him to agree to visit a couple of places where he could go to possibly change his life. After one visit, he jumped out of the car and started walking. We were in rural Connecticut, rolling hills all around us, the road stretching between them under gray skies. He was walking and he looked so alone. And, of course, he had no idea where he was. Next time we drove to the Berkshires, I unscrewed the door locks so there was no jumping out. But after 7 or 8 months, he walked away from that place.
Now he is hell-bent on recovery, or so it seems to me. And I want to help. He even called me last week to ask for moral support as he took the bus to his first voluntary visit with a shrink ever. I have been to shrinks and counseling and Al-Anon to try to understand and get beyond my own loss—and my anger. They all work for a time, but then there is a new report of change and recovery, or alternatively, disaster, bad luck, or stupidity, and I feel the weight in my heart. It's like a hole or a vacuum but at the same time, it has real heft. Dark matter, I suppose.
My latest plan is for him to have a bank account and learn to watch his own money, money I give him once a month. That way there won't be any urgent calls and panicked wires from Western Union, just a steady and unvarying source of support for a recovery that I very much believe is real. As if recovery were a job and I was his employer. But that's not my role, it's enabling. BUT, what if it enables recovery? This is what I believe, or want to believe, and it is impossible for me to tell the difference.
I have dropped out of his life for months and years. So I have let go. That was the discipline I learned at that big white house in the Berkshires when I would drive up there for parents' sessions. I really committed myself. But visits with him were short and structured, and after he ran away, the discipline was to not look for him—and, when he surfaced, not to help. The message was to go back and finish. But he never did.
The lost plane, of course, is different. It has no will of its own. Something took control away, and it turned back from its course, avoided radar and disappeared. But, that cannot be allowed to happen—and so the search goes on. One night, my wife woke me at 2am to tell me that it had been found in the mountains of Kirgyzstan, a place where I knew it just had to be. I believed her, and we talked about what it must mean, who must have diverted it, the ins and outs of this and that theory, until we fell back asleep. I got up early and Googled "MH 370 Kirgyzstan" and couldn't find it; all the sites were still indicating the Southern Indian Ocean. It took me a while to realize how she had played me. I laughed, and when she woke up, she told me how long she had planned that. I laughed again at how I had been so ready to believe.
But, it's hard to laugh over my son, or my own episodically recurring hope for something better for him. She wouldn't play such a joke on me about him; we've had too many fights on the subject (and before her, fights with his mother). I have only the thinnest of emotional buffers where he is concerned. It's very hard for me to explain my ideas for how to help him. My commitment is clear, even when I'm on emotional lockdown, but that's not what it's about.
Lately I have been focused simply on my relationship with him. For a while, and even now, that starts with the weather. If it's hard to talk with my wife and siblings (or his) about what is really happening with him, or what might happen, it's even harder to talk with him. But lately we have been talking more. He has a couple kids and for him, they are as tough a topic as he is for me.  All has not gone well, but for now, we have put them aside and begun to focus on his own plans.
When our children are born, we can't help but dream of where they are going—destinations on life's list of arrivals and departures. After a while we learn, if we are lucky, that it's the journey that counts. That's a cliché, but one that it truly helps to keep in mind.
And whose journey is it that matters most of all? Our own. I feel for the families of the passengers of MH 370; my own interest is almost grotesque if I place it next to theirs. But like me, they have their own paths to walk. Everyone does, and for each and every one of us, those journeys are burdened with loss. The loss of this plane is very hard to take, and so far, there is no reason. And, that is the hardest of all.
For years I did not know where my son was, and that kept my attention. I'd look for him, in Harvard Square, Manhattan, around the block from the house where his friend lived. And one day I saw him, walking Highway 44 in Connecticut, in the neighborhood where he had grown up at his mother's house. But once he was found, and that was a long time ago now, he still felt lost. Then, after talking with my wife about it, I managed to keep my focus on a simple, steady, limited relationship. And that worked.
But now I want more. I always wanted more, but put that aside when it hurt too much.
When I was 12, my dad took me on a trip to Chicago. We stayed at the Hilton on Michigan Avenue and went to the Pan American Games at Soldier Field. So, when each of my kids turned 12, we also took a trip. Now there is a promise of a second trip when each one reaches 35 (my dad died when I was 31). The eldest and I have already done our second one, and next month, there's a birthday for #2. We've talked about "the trip" a couple times, but no details. Destinations—we've gotten far enough to name a couple. If we manage to get to one, that will be huge—as it would have been for my dad and me, or for the people of MH 370. I feel so sorry for them, and for their families. But remember, it's the journey that counts. I only hope theirs wasn't too riddled with pain, loss and the fear of no return.
 ***
Conclusion 
Gene Beresin, M.D.
This is a tough one for me, maybe because I've been so close to Brian's journey for so long. Maybe it's because, even as his former therapist, I still feel his pain. Or, maybe it's because I'm also a parent, and understand how hard it is to remain detached from living the life of my own kids.
Here are some thoughts for parents:
No matter how tough the situation—how desperate, how many false starts—we never give up hope for our kids. It's just not part of being a parent, even if we can't express it.
Recovery may take a long time, and it really is up to an individual to make the right choice. No one can do it for you, not even a parent. Perhaps Brian's son has come to this realization now that he's a father (or perhaps for another reason). I hope someday that he and his dad will be able to share their stories.
As parents, we deeply love our kids. But, that love co-exists with anger, hurt and pain, especially when we see our children doing something stupid or disastrous.
Don't discount your hopeful presence, your unfailing desire to help, or your availability—no matter how many times you've been rejected. At times, emotional detachment can be life-saving for a parent; but, your expectant waiting and patience, despite the pain, does not go unnoticed by your child.
While we all "journey" on our own, it sure helps to have someone close by to listen.
Was this post helpful?
Let us know if you liked the post. That's the only way we can improve.
Newsletter
Subscribe Today
Your monthly dose of the latest mental health tips and advice from the expert team at The Clay Center.
Subscribe
Multimedia
Quick Jumps
Tag Cloud