"Looking for Luke" Documentary Released for Suicide Prevention Week, Begins National Tour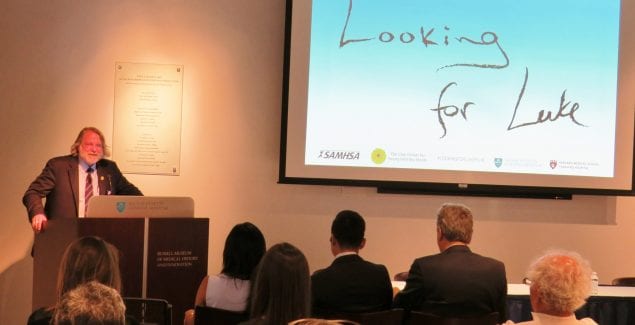 Posted in: Hot Topics, Parenting Concerns, Teenagers, Young Adults
Topics: Depression, Mental Illness + Psychiatric Disorders
Filmmaker and producers to raise awareness about suicide on college campuses
FOR IMMEDIATE RELEASE
BOSTON, Mass. – On Sept. 12, timed with National Suicide Prevention Week, The Clay Center for Young Healthy Minds at Massachusetts General Hospital unveiled its film, "Looking for Luke," to help raise awareness, reduce stigma, and open conversations about suicide risk and prevention. Gene Beresin, MD, executive director of the Clay Center, has said 50  percent of college students have some type of mental health problem.
Filmmaker Eric I. Lu and executive producers Gene Beresin, MD and Juliana Chen, MD, have shared that creative media, like film, can play an important role in engaging audiences and communities in important discussions about mental health, as suicide rates continue to rise among teens and young adults.
The 26-minute documentary follows the parents of Luke Tang, a well-liked, passionate, and brilliant Harvard sophomore, as they attempt to understand why their son died by suicide.
Prior to the screening, a pre-recorded introduction for the film was shared featuring NBA basketball player Jeremy Lin, who talked about the pressure he faced as an Asian American student in high school and college. After the film, a panel of MGH/Harvard psychiatrists and psychologists hosted panel discussion about the film and issues related to suicide.
"This viewing event was a great way to kick off our national tour for the film," said Beresin. "The thoughtful and engaging questions from the audience, showed us that we have identified a really important topic. Through the power of film, we believe this documentary will allow us as psychiatrists and psychologists to address the stigma behind suicide in a way that really resonates with people and starts a critical dialogue about this alarming trend on college campuses."
In addition to Dr. Beresin, the panel included Juliana Chen, MD, executive producer, Looking for Luke, child & adolescent psychiatrist, MGH and Newton-Wellesley Hospital, instructor of psychiatry, Harvard Medical School; Justin Chen, MD, MPH, psychiatrist, MGH, assistant professor of psychiatry, Harvard Medical School, executive director, MGH Center for Cross-Cultural Student Emotional Wellness; and Matthew Nock, PhD, professor of psychology, Harvard University, research scientist, Massachusetts General Hospital.
"The film hits a lot of the important points that people should know about suicide in terms of how perplexing and complex the problem is, and how much we don't know about it," said Nock. "The fact is that scientists and clinicians don't have the answers; families and friends shouldn't be expected to either. I think the family and friends having the courage to make the film and talk about their story will hopefully open up more dialogue about the issues."
The viewing on Sept. 12 at the Paul S. Russell, MD Museum of Medical History and Innovation at Massachusetts General Hospital in Boston, Massachusetts kicked off a national tour for the film that already has several more scheduled screenings in 2017.
Sept. 15, 1-3 p.m.
Question + Create – A Harvard Alumni Gathering on the Arts, Cambridge, Massachusetts
Sept. 28, 7-8:30 p.m.
SADD Talk Series – Opening Lines of Communication, Facebook Live
Sept. 30, 2-3:30 p.m.
Looking for Luke – Film and Conversation, Fairfax, Virginia
Nov. 4-8, Time, TBD
American Public Health Association Global Public Health Film Festival, Atlanta, Georgia
The film was produced in partnership between The Clay Center for Young Healthy Minds at Massachusetts General Hospital and is made possible in part by a grant from the American Psychiatric Association's Substance Abuse and Mental Health Services Administration (SAMHSA) Minority Fellowship Program.
For more information about the film and to watch the trailer for the documentary, visit mghclaycenter.org/looking-for-luke.
###
Editor's Note:
Click the image above or the link below in order to access a downloadable version.
Dr. Gene Beresin speaks to the audience before the documentary that will be part of a national tour to raise awareness about suicide on college campuses. Photo courtesy: The Clay Center for Young Healthy Minds at Massachusetts General Hospital.
About The Clay Center for Young Healthy Minds
The Clay Center for Young Healthy Minds at Massachusetts General Hospital is a web-based resource that educates parents and other caregivers about the psychological development and emotional well-being of children, adolescents, and young adults who struggle with behavioral, emotional, and/or learning challenges. To learn more, visit mghclaycenter.org.
About SAMHSA
SAMHSA is an agency within the U.S. Department of Health and Human Services that leads public health efforts to advance the behavioral health of the nation. SAMHSA's mission is to reduce the impact of substance abuse
and mental illness on America's communities. To learn more, visit samhsa.gov.
Was this post helpful?
Let us know if you liked the post. That's the only way we can improve.
Newsletter
Subscribe Today
Your monthly dose of the latest mental health tips and advice from the expert team at The Clay Center.
Subscribe
Multimedia
Quick Jumps
Tag Cloud