The Impact Of LGBT-Related Bullying On Emerging Adults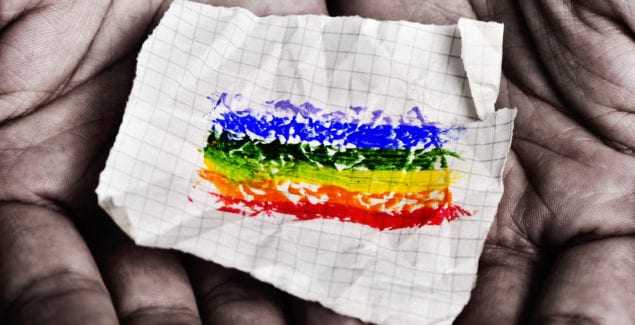 Posted in: Grade School, Teenagers, You & Your Family
Topics: Bullying, Culture + Society, LGBTQ+
As we recognize National LGBT Health Week here at The Clay Center, we hope the information we share will be both informative and useful. For more information on helping to improve the health and well-being of lesbian, gay, bisexual and transgender individuals, please visit the National Coalition for LGBT Health website.
***
In 1996, Jamie Nabozny, a young gay man growing up with his brother and parents in Wisconsin, prevailed in federal court by winning a judgment of just under $1 million to be paid by the School District of Ashland (WI) for failure to protect him against bullying at school.  The New York Times reported that this was "the first federal trial of a school district for failure to protect a gay student."
Though million-dollar court settlements are rare in cases like these, experiencing bullying and/or teasing among LGBT students (or those perceived to be LGBT) is quite common.  In fact, research conducted across a myriad of cultures around the globe has found that about 1 in 5 students in the general population are bullied in school (inclusive of cyberbullying), with those who identify as LGBT being nearly triple that rate.  It is notable, and perhaps helpful to parents, that cyberbullying rarely occurs in isolation; this is to say that for most children or adolescents, if cyberbullying is a concern, so, too, is traditional bullying. Many experts point to a lack of tolerance for gender non-conformity among both straight and sexual minority students, and a failure on the part of adults to model tolerance for diversity, as main contributors to the bullying problem.
Bullying and teasing have been associated with a number of negative health outcomes.  Before briefly reviewing some of these, it might be helpful for parents to understand why such health problems are related to bullying, and why it persists as such an insidious problem, as has been discussed in other blogs on this site.
By definition, a student is being bullied or victimized when he or she is exposed, repeatedly and over time, to negative actions on the part of one or more other students where there is a certain imbalance of power or strength.  Some key points here are (1) repetition, and (2) a perception by the victim, and perhaps the bully, of the victim's social isolation.  This means that bullying not only serves to socially isolate others, but it becomes a self-fulfilling prophecy in that others fear befriending a victim of bullying because they believe they will then be targeted.
Much of the research suggests that other students described as "bystanders" (those who are neither bullies nor victims) earn this label by virtue of observing, but not acting on behalf of a victimized student through (a) intervening, (b) reporting the problem to an adult, or (c) befriending rather than further isolating the victim.  Such inaction on the part of bystanders results in a perception by the victim that he or she is alone, and unable to escape this repetitive victimization.  Indeed, children and adolescents in K-12 schools generally cannot escape their maltreatment since they must attend school.  The reach of social media has, in some cases, further extended this zone of harassment outside of the school, bus and neighborhood, and into the home. What a decade ago was considered "safe" for victims is now a place within reach of school bullies.  For this and other reasons, young people who are struggling with this problem feel trapped—and rightly so.
Bullying is associated with higher rates of all of the following, which continue into emerging adulthood:
substance abuse
sexual risk-taking
psychological distress
depression
anxiety
suicidality
PTSD
poor academic performance
missed school days
As recent cases highlighted in the media suggest, bullying can continue (or begin) for some in college.  The degree to which a young adult in college is isolated among his or her peers may influence these issues.
Parents concerned about these problems may find themselves helpless to intervene, and may also be frustrated by their own child's unwillingness to disclose the frequency or degree of bullying.  This occurs for a variety of reasons, not the least of which relates to the stigma surrounding sexual orientation or perceived sexual orientation, which applies to heterosexual youth bullied and teased due to the perception of being LGBT.  Recall that the flavor of much of the bullying that occurs is a backdrop to the perception (real or imagined) of the victim's sexual minority status.  Children and adolescents loathe raising these concerns with parents whether they're LGBT or not.  As awareness of this problem increases, so too do the tools parents have available to protect their children.
Health professionals and educators are investigating ways to intervene on behalf of those being bullied, and help is available. We hope you will visit some of the following websites for more information:
Was this post helpful?
Let us know if you liked the post. That's the only way we can improve.
Newsletter
Subscribe Today
Your monthly dose of the latest mental health tips and advice from the expert team at The Clay Center.
Subscribe
Multimedia
Quick Jumps
Tag Cloud