Why Watch The Holiday Classics This Season?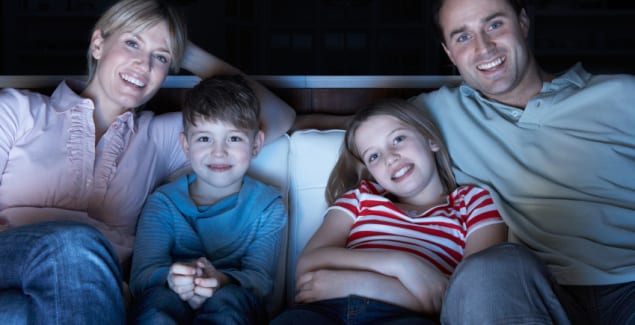 Posted in: Hot Topics, Podcast, You & Your Family
Topics: Culture + Society
Intro music written and performed by Dr. Gene Beresin.
Outro music arranged and performed by Dr. Gene Beresin.
Well, there are all sorts of ways to answer this question.  However, my favorite way to answer, as you might expect, is with a story.  In fact, you might even call this story itself a classic from my youth.
In sixth grade, I had a rather eccentric teacher named Joel Dempsey.  If, by chance, anyone reading this also had the good fortune of having Mr. Dempsey as his or her instructor during the cusp of adolescence, I'm sure you'll smile knowingly upon hearing this vignette.
Dempsey was an inner-city guy from Philadelphia.  Somehow, despite that urban demographic, he ended up teaching what was then the last year of grade school in Prairie Village, Kansas, where I grew up. He held a masters degree in literature, and he insisted on avoiding the somewhat conservative literary cannon that was part of my supposedly down home education.  The other sixth grade classes read Bridge to Terabethia; we read Ethan Frome.  The other classes studied the poems of Robert Frost; we read Kafka's Metamorphosis.  As you might imagine, there was much hand-wringing among parents who saw their children bring home strange dusty books about philosophy and suffering, and consequently, Mr. Dempsey was frequently under a fair amount of not-so-friendly fire.
The day after one of the many school board inquiries into his teaching, Dempsey posed a question to my class.
"What," he asked us all one morning, seemingly out of the blue, "is the definition of classic literature?"
"A good book?" I squeaked.  Mr. Dempsey scared the poop out of me.
"No recess," Dempsey announced.
And this continued.
"What," he asked us all the next day, "is the definition of classic literature?"
"Something you like to read?" a brave student tried.
"Recess," Dempsey noted, "gone."
Finally, with some cajoling from Mr. Dempsey himself, we were essentially badgered into defining classic literature, word for word, as Mr. Dempsey did.
"Classic literature," he boomed, "is literature that has withstood the test of time."
He paused.  He looked around the room.  Then, with a wry smile, he opened the gates.
"Recess," he consented.
As a result, I shall never forget what he said.  Many might take issue with his particular brand of pedagogy, but that's not the point of this post. We're talking about classic holiday films, remember?
And the subject of classic films begs an important question:
What makes them classic?
Think back to what Mr. Dempsey said.  It's not like there aren't hundreds of holiday films.  And it's not like there aren't millions of families who watch them together.  But, amidst the new stuff that keeps pouring out, the old stuff just won't go away.
The classics.
They withstand the test of time.  They're the go-to's on cold winter nights in December.
But first, some caveats before we get to our list.
These films are not secular. We submit that you need not be Christian (in fact, I'm not and Gene isn't either) to enjoy and even learn from these stories.  It's hard to argue with messages like "be nice," and "remember your neighbors."
Many of you will have your own list. Goodness knows we aren't authorities on the definitive holiday movies.  But, this isn't a competition either.  Let us know the ones you happen to like; we'll post them.
Finally, although watching a movie, especially on TV, may sometimes get a bad rap, we'd like to argue, even tell you that there is data, that watching good stuff on the screen can bring a family closer.
So, without further ado, and with attention to multiple decades, here are our choices for your holiday pleasure (in no particular order).  And no worries—no spoilers.
1. It's A Wonderful Life (Frank Capra, 1946)
C'mon, do we even have to argue for this one?  Jimmy Stewart's earnestness, the message that we are all a community, that no one can make it entirely alone…this is the stuff of hot chocolate and warm fuzzy socks.  Enough said.
2. A Charlie Brown Christmas (Bill Melendez, 1965)
Anyone over the age of 40 knows the classic jazz of Vince Guaraldi.  You might not know the name, but you know the tune.  And, the message of an already over-commercialized Christmas isn't preachy or over-wrought, it's just nice.  Again, community really matters.
3. A Christmas Story (Bob Clark, 1983)
Based on a wonderful short story by the late Jean Shepherd, this movie involves, among other things, a dare among children to stick one's warm tongue onto a wintertime flagpole.  Crazy dogs are also prominently featured, and the entire neighborhood somehow comes together in the frenzy of the season.  This film, more than any other on our list, depicts the stress that comes with this time of year as well.
4. Elf (John Favreau, 2003)
OK, I see the inconsistency of listing a movie that is barely 10 years old and then calling it a classic.  Still, this one is watched over and over by virtually every family I know, and features, yet again, the familiar struggles of a pressured family that finds solace in reaching out.
Heck, all of these movies are about reaching out.  I think that's why we like them so much.  No one really does well all alone, and the holidays are confusing to many; we're supposed to be full of goodwill and cheer, but mostly we just sit in traffic.  Families, together with others, snuggling up to a holiday movie…that goes a long way in bolstering our spirits as the snow starts to fall.
Have a safe and wonderful holiday, everyone.
Was this post helpful?
Let us know if you liked the post. That's the only way we can improve.
Newsletter
Subscribe Today
Your monthly dose of the latest mental health tips and advice from the expert team at The Clay Center.
Subscribe
Multimedia
Quick Jumps
Tag Cloud