Let's Talk Turkey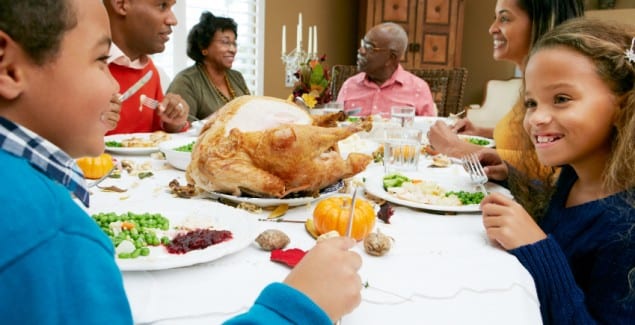 Posted in: Hot Topics, You & Your Family
Topics: Relationships
The expression, 'talking turkey,' has two opposite original meanings—to speak pleasantly around the dinner table, or to skip the niceties, and get right to what's important.  It is, of course, this second meaning that persists in everyday conversation, as when we say, "Let's talk turkey about why you don't eat your vegetables."
The fact that 'talking turkey' originally had two opposite meanings seems so fitting, since Thanksgiving as a ritual holds two conflicting meanings as well.  The first is the constancy and continuity of the holiday: it's always on the fourth Thursday of November, and most American households will be serving the same menu of turkey, stuffing, gravy and apple pie, with some variation allowed for sides.  Year after year, this holiday reminds us of the continuity of family life, linking us to the generations before us who celebrated the same holiday, and allowing us to look forward as we teach the next generation how to brine the turkey, and make sure the gravy doesn't taste of raw flour.
But, against this predictable canvas, there are usually stark reminders of what hasn't stayed the same, and that is the second meaning of Thanksgiving.  It could be that a child is old enough to eat solid foods this year, or to sit at the table beyond the soup course.  Or, a child who had sat silently through previous Thanksgiving dinners, returns home from college, and wants to argue about climate change with her conservative uncle.  A grandparent's death leaves an empty chair.  A new puppy scarfs down the brie left out on the coffee table.  A friend whose husband died is included in the celebration this year.  A parental divorce means that there are two dinners to squeeze into one day.  This year, my oldest son will be spending Thanksgiving with his girlfriend's family—a reminder that the circle of our family is expanding to make room for new members.
The most constant feature of family life is change.  The annual ritual of Thanksgiving gives us pause, makes us think about continuity and sameness, and usually gives us a little wake-up call that nothing ultimately stays the same.
I feel this tension between sameness and change as I plan the menu.  Every year, I flirt with trying new recipes—maybe we'll try making a fried turkey in the backyard, or a celery root and apple puree, or an updated sweet potato dish with fresh figs that doesn't include the goofy marshmallows.
This year, I asked my young adult son if he wanted to make any changes to the menu, and he surprised me by saying, "Sure, what did you have in mind?"  I always thought that I was keeping the ritual consistent for my children's sake, but now I realize it's for mine.  In truth, the only menu change I'm making this year is to buy an amazing mocha layer cake from a teenage girl who bakes as a fundraiser to eradicate a rare childhood disease.
I do have one new trick up my sleeve, something to honor the idea that rituals need to change to stay fresh.  This year, even though there will be no young children at the table, I'm going to try to play some games.  I'm going to suggest a game of charades before dessert.  I'll divide the family into two teams, and give everyone a stack of post-its to jot down some names to act out, like Kate Middleton or Bruce Springsteen.  But, I'm pretty sure that my son will want to talk turkey with me—he'll  tell me to skip the games, and get on with the serious business of heating the chocolate sauce for the profiteroles.
Was this post helpful?
Let us know if you liked the post. That's the only way we can improve.
Newsletter
Subscribe Today
Your monthly dose of the latest mental health tips and advice from the expert team at The Clay Center.
Subscribe
Multimedia
Quick Jumps
Tag Cloud