What If My Family Doesn't Celebrate The Holidays?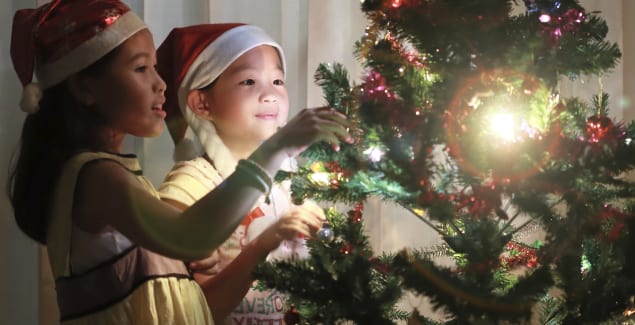 Posted in: Hot Topics, You & Your Family
Topics: Culture + Society
I can't believe I'm going to begin (another) post by noting that the holidays are upon us.
I know that I've written a similar beginning for a seemingly similar article for all sorts of publications over the past few years. The holidays are wonderful, and frenzied, and stressful, and compact, and often overwhelming.
But, what if you don't celebrate the holidays?
What if your family doesn't gather for the traditional festivities that characterize the excitement of the season?  Do you feel less stressed?  Is it just another month or two of winter?
Well, yes and no.
You might not get caught up in the same game of rugby in the mall, but it can be tough when everyone else is playing that game—even if it's a game you eschew. We happen to live in a culture that recognizes roughly the period from Halloween (a Pagan celebration that became a Christian day of worship and then morphed into a largely secular celebration) through Thanksgiving (a mostly secular day that has strong spiritual overtones) to Christmas (Christian and super-holy), Hanukkah (Jewish and not all that religiously important) and Kwanzaa (a non-religious but deeply spiritual recognition of African Diaspora) as commercially, academically and socially sacred.
Whew. That's a big sentence. To break it all down, what we're saying is that even if you're not religious, and even if you don't identify with a particular ethnic group, our culture gives you from the end of October to the beginning of January to act like you do. School and work are cancelled. Commercial enterprises run rampant. And families gather in droves during the times when they'd normally be expected to be at work or school. That's just the nature of things if you live in the United States. So, even if you don't observe any of these days, everyone around you likely does, and being on the outside of anything has its own special stressors.
These families "on the outside" often feel isolated, left out, even forgotten. I've certainly seen kids from families that choose not to take part in the holidays. Those children and adolescents sometimes feel like the candy store is open to everyone but them. What can we do to promote resilience in these circumstances?
This might sound a bit unorthodox, but I think it makes sense to find a middle ground. In any other setting, we value moderation as a means of avoiding the loneliness that absolute rules create. Still, the rigid orthodoxy of holiday observance can leave little room for moderation, and ironically, these holidays can be said to preach tolerance more than any other value. To that end, even if you have strong religious, moral, or cultural objections to the celebration of the winter festivities, remember that your child won't until understand the reasons for your objections until he or she is at least in high school. I've seen an awful lot of kids smile when parents create some kind of ritual, even if it's "only" a special dinner or night out to correspond with other more traditional observances of the holidays.
The other option is to remember that you are, by definition, part of a community. Some of my fondest memories from childhood include sleeping over at friends' houses on Christmas Eve. I'm Jewish, so my family did not celebrate Christmas in any way, but they had no objections to my experiencing Christmas elsewhere. I never felt that I was violating a religious principle by running downstairs on the morning of December 25th, and those same friends came to my house to light the menorah.
So, before you accuse me of simply singing "Kumbaya" (a Gullah spiritual devoted to asking for peace that became secularized after being "officially" recorded in the Library of Congress in 1926), remember that it is often the obvious things that we forget  most easily. Even if you don't celebrate anything, there is not prohibition against being celebrative in ways that suit your own values and morals. That's the middle ground. We have to get along, and we do that by living in a community where we celebrate our differences as much as our similarities. In fact, that helps the holidays in general to go better—whether you recognize them or not.
Was this post helpful?
Let us know if you liked the post. That's the only way we can improve.
Newsletter
Subscribe Today
Your monthly dose of the latest mental health tips and advice from the expert team at The Clay Center.
Subscribe
Multimedia
Quick Jumps
Tag Cloud