The Clay Center's End of Summer Playlist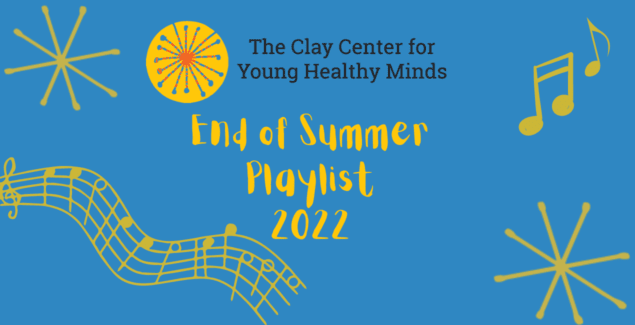 Posted in: Multimedia
Topics: Culture + Society, Digital Media
The end of summer can bring mixed emotions, but music has the power to help us feel, heal, and connect. As you prepare for a new season, here are a few summer songs that each of us are holding onto to help us through the transition. We hope they add a little light in your life. ✨
Is there a song that is resonating with you right now? Share it, and we'll add it to our playlist!
Lady Gaga: Born This Way
I absolutely love Lady Gaga's song 'Born this Way'! It reminds me to keep trying and to accept and love myself. I play it when I am about to start my work out or getting in the car with my kids for a long drive, not only because it has incredibly energy, but also because it is so damn positive.
At a deeper level, I believe this song challenged society's thinking when it first came out in 2011, but that's what great songs do – they raise awareness, start entire movements and ultimately work to change society's thinking.
I wish I had this song back in 1985 when I was 11 and experiencing feelings of self-doubt, wishing I were normal, smarter, pretty and skinny, and I didn't even have social media back then!
Today, when I listen to this song on my Spotify, I am really still singing to my younger self and it helps her. It has become my anthem.  It reminds me that "I am beautiful in my own way."  I may not have had any influence on how I was born, where I grew up or the challenges I would face, but it is okay. I know that I am not alone. I am here to be exactly who I am, and I am learning to accept and even celebrate my quirkiness.
"Don't hide yourself in regret, just love yourself and you're set.
I'm on the right track baby I was born this way!"
I hope this song spreads joy to anyone seeking to accept and love themselves. ~ Michelle
The Nitty Gritty Dirt Band: And So It Goes
'And So It Goes'. I really like this tune because, like love and life, it's all practice. ~ Gene
Beyoncé: Break My Soul
While I am a Beyoncé fan, this techno-like flavor is not my thing, but to my surprise, I was captivated by the powerful message of 'Break My Soul'. It's a message, it's a reminder, it's encouragement, it's motivation, it's uplifting. We need to remember to put on our armor of protection as we head out and face the world and that looks different for everyone and can change day to day based on our state of being and what we feel we need.
Music is big in our home so, needless to say, this made our Morning Motivation Playlist. As we transition out of summer, this song has taken on a new twist, and I also now think of it as a hidden message to the fast approaching and oh so long Boston winter. 🥶  ~ Khadijah
Kishi Bashi: Penny Rabbit and Summer Bear
'Penny Rabbit and Summer Bear' by Georgia-based violinist Kishi Bashi is a sweet fairy tale about a rabbit who swims across the sea to meet his friend. While the lyrics are simple, it's the feeling of calm this song evokes that makes it special to me. With its soft layering of strings, gentle percussion, and Kishi Bashi's warm and earnest voice, "Penny Rabbit and Summer Bear" sounds almost like a lullaby.
Some days, my anxiety decides to flare up unexpectedly- for what seems like no reason at all! When I find it almost impossible to sit still, I remind myself that even if I can't solve every problem in my life, I can still feel calm. This song helps me do just that. As I relax, I realize that no matter what the future has in store, in this moment, I am safe. ~ Will
Ed Sheeran: Little Bird
'Little Bird' by Ed Sheeran is one of the only songs that I don't skip past when I'm going through my playlists and just can't find a song to settle on. Whenever this song pops up, I find myself smiling and tapping my foot along with the acoustic guitar, getting completely lost in the rhythm and simply enjoying the moment. With the world the way it is today, finding three minutes where it all disappears is a welcome relief.
Knowing that the "little bird" Ed refers to is in fact a chicken also makes me laugh every time I listen to it, and who doesn't need a little more laughter in their life? ~ Bianca 
Cake: Short Skirt/Long Jacket
The summer season can elicit a range of emotions, especially as you cycle through life. My favorite kind of summer has always been one of possibility. A renewed energy following a sweet spring awakening. So a favorite summer song of mine is one that boosts my confidence and feelings of girl power: 'Short Skirt/Long Jacket' by Cake.
Cake is one the first bands I saw live during my adolescence, at a free outdoor concert in Boston, so that's always left an impression. And I've always been drawn to their blending of alternative rock & big band themes, along with spoken lead vocals. No matter what kind of "girl" you are, this song is a positive, upbeat declaration about wanting someone in your life with a wide range of characteristics — all of them equally awesome. It's full of attitude, and a reminder of all that's possible when you feel recognized for and confident in your unique style and talents.
It doesn't hurt that I discovered my Dad also LOVES this song. He has great music taste, and has always been a huge supporter of whoever I've been at the many different cycles through my life. ~ Sara
Pat Alger: Once In a Very Blue Moon
'Once In a Very Blue Moon' was made famous by Nanci Griffith, RIP.
This tune reminds me of the bruises that come with relationships and loss. It seems this is a fresh loss and recovery take resilience, time and initially, a blue moon to bounce back – at least at that stage. I love it because it is bittersweet – kind of paradoxical. And maybe this is my projection, but I feel that both partners need that Blue Moon to realize what they have lost and hopefully gained. Sad songs, like the blues, are in my mind the most powerful and evocative of the human spirit and experience. Maybe this is why we hear them in virtually all genres of music – country, blues, hip hop, jazz, rock, gospel, folk, and even classical. I can't say why but every time I hear this song, I smile and feel a sense of hope.
For all the wonderful people I miss. ~ Gene
Was this post helpful?
Let us know if you liked the post. That's the only way we can improve.
Newsletter
Subscribe Today
Your monthly dose of the latest mental health tips and advice from the expert team at The Clay Center.
Subscribe
Multimedia
Quick Jumps
Tag Cloud