How to Be "Smart" in the Time of Smartphones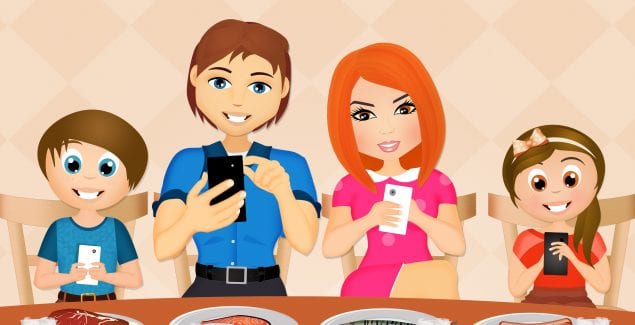 Posted in: Hot Topics, Parenting Concerns
Topics: Culture + Society
If you were born more than a couple of decades ago, the chances are pretty good that you'll remember the family dinner where there were five conversations at once.
"I got a lousy grade in math today," you might have said.
Your little brother, seemingly in response to your attempt at confession, added this helpful statement:
"I don't LIKE eggplant parmesan."
Your mother might have tried to bring things back around.
"What grade DID you get?"
"It doesn't matter," you try hopefully.
"Does to me," your dad chimes in.
Your little brother then might have asked for the ketchup.  Ketchup makes everything better.
This was a typical dinner.  No one really questioned it or even actively valued it.  That's just the way it went.  And of course, it wasn't like this every night.  Maybe sometimes everyone watched a movie.  Maybe sometimes someone was out with friends.  But families talked at dinner.  That was relatively consistent.
Today, however, we have phones.  This isn't meant as an ode to the good ol' days; you'll have to draw your own conclusions about how good these days actually were.  Still, we know that for at least the last ½ decade, families are much more likely to sit silent at the dinner table.  We're reading the news on our phone.  We're looking at homework on our phones.  We're flirting with our friend on our phones.  We're watching a ballgame on our phones.
We're having dinner, with our phones.
---
"Certainly, smartphones and tablets are an important part of our lives today, but they need to be used judiciously." 
---
The world has changed enormously since the advent of the smartphone.  People in the same room often don't talk to each other, but prefer to communicate through technology. Your kids could be home with you and text you rather than talk to you.  If you have a voice-controlled speaker in your home, like Alexa, perhaps your kids direct their everyday questions to the speaker, instead of to you. "Alexa, is it gonna rain again today?"
And to be sure, there is a streamlined utility to these changes.
The most efficient and reliable way for us to keep in touch with kids and grandkids is through texting.  This works because we get a near-immediate response.  There aren't really any details and of course we don't hear the sound of their voices.  The phone is like an extra limb.  It's an extension of ourselves.
According to a September 2017 article in The Atlantic by San Diego State University Psychology Professor Jean Twenge:
"The arrival of the smartphone has radically changed every aspect of teenagers' lives, from the nature of their social interactions to their mental health.  These changes have affected young people in every corner of our nation and in every type of household….Significant effects on both mental health and sleep time appear after two more hours a day on electronic devices."
Twenge's research also suggests that teens today are a lot less likely to go out, have less interest in driving, and feel lonely. Rates of depression have increased.
Twenge isn't the one with concerns.  A recent survey conducted by Common Sense Media showed that nearly 80% of teens checked their phones hourly and 72% said they felt the need to respond immediately to texts and social media – even at night, often interfering with their sleep. At this point, it makes sense to recall that sleep deprivation has long term consequences for both physical and mental health.
Research and survey data connects the amount of time spent on social media with loneliness, depression, suicidal thoughts and sleep deprivation.  Kids are not getting enough sleep because they have their phones in bed with them and are responding to texts and social media.
Certainly, smartphones and tablets are an important part of our lives today, but they need to be used judiciously.
Here's what we as parents and guardians can do.  Much of this will sound like common sense, but be honest with yourself.  We humans have a long history of ignoring common sense when the reward is high enough.  Knowing things immediately is a pretty potent reward for big brains like ours.  So, with full disclosure of our guilt, here are some friendly reminders:
Be a role model – you can't expect your kids to put away their phones or tablets if you won't put yours away.
Limit the time your child spends on social media: no phones at meal time; no videogames while doing homework; limit phone use in bed.
Consider having a family policy of collecting phones before bed time, or at least talk about the best way to manage phone use after hours.
Talk to your child about the long-term consequences of inappropriate postings on social media
Consider having your child pay for part of the cellphone bill. Knowing what it costs can help with financial responsibility
Educate your child about the dangers of texting, and app use, while driving. There's no wiggle room on this one. It's illegal in most states, and dangerous.
We can't turn back the clock, and I don't think we want to.  Smartphones and tablets are amazing.  It's pretty clear, though, that we have to get better at using these devices in the best possible ways. We'll figure out how, but we have to be active in this endeavor.  Otherwise, we stop owning the technology and it starts to own us.
Was this post helpful?
Let us know if you liked the post. That's the only way we can improve.
Newsletter
Subscribe Today
Your monthly dose of the latest mental health tips and advice from the expert team at The Clay Center.
Subscribe
Multimedia
Quick Jumps
Tag Cloud