Two Child Adolescent Psychiatrists Weigh in on Netflix's 'To The Bone': A Missed Opportunity to Understand Anorexia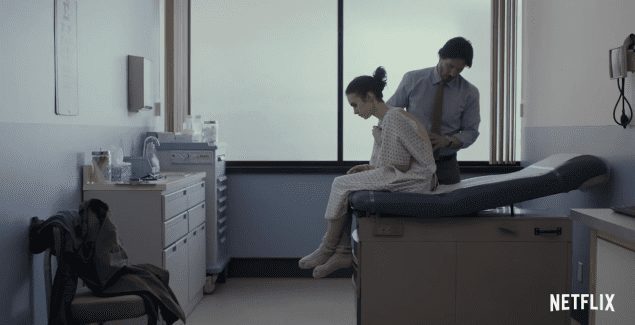 Posted in: Hot Topics, Parenting Concerns, Teenagers, Young Adults
Topics: Culture + Society, Mental Illness + Psychiatric Disorders
As child, adolescent, and adult psychiatrists we have eagerly been awaiting Netflix's release of To The Bone.  It seems intended to significantly raise awareness, educate viewers and open conversations about these severe psychiatric disorders.  Eating disorders arise in the context of a "perfect storm" of factors, including biological vulnerability (genetic predisposition, associated mood instability), temperament (perfectionistic, obsessive, and sensitive to rejection), and a societal preoccupation with the thin ideal.  While family dynamics may contribute, it is important to note that eating disorders also, and very often, arise in loving and supportive families.
The film tells the story of Ellen, a 20 year-old Caucasian female, with chronic anorexia nervosa, who seeks treatment with the unconventional Dr. Beckham (played by Keanu Reeves).  Marti Noxon, the film's writer and director, has been open about her struggles with anorexia, and Ellen's story is an autobiographical dramatization of her own journey.  Netflix's describes the film as revealing Ellen's "harrowing, funny journey of self-discovery."
Weeks before it's public release, the film has been generating a lot of discussion and controversy.  On the heels of the release of 13 Reasons Why, a television show that painstakingly describes the events leading to a young woman's death by suicide through her own lens, Netflix finds itself in the midst of another discussion about responsible film making and distribution.
---
"We would like the film's message to be more clear: eating disorders are severe, life threatening illnesses that have the highest mortality rate of any psychiatric illness."

 
---
The major objections noted include concerns about glamorizing and glorifying eating disorders, as well as teaching "tips and tricks" for weight loss and hiding behaviors from treatment providers.   In addition, given reports that photos and clips from the film have been used as "thinsperation" on pro-anorexia websites, there is concern that it may be triggering for those who are actively struggling with an eating disorder or are in recovery from their illness.  Some worry that perhaps those young people who do not have an eating disorder and would not have otherwise developed one may develop "copycat" behaviors to get the intense attention that is demonstrated in the film. There has also been much debate about perpetuating stereotypes about eating disorders, namely that they are vanity problems affecting affluent white teenage girls.  Finally, but perhaps most concerning, Lily Collins, the actress who plays Ellen, who also was treated for anorexia nervosa as a teenager, underwent "supervised weight loss" for the role.
The reality is that almost any mention of eating, dieting, weight loss, or exercise can be difficult for someone who is actively dealing with an eating disorder.  The film does contain an introductory warning that content may be difficult to watch.  As for concerns about Ellen's story serving as a "how to" manual or guide to weight loss behaviors, the truth is that much more explicit and detrimental information can be easily found online if someone is actively looking for it.  Though many individuals with eating disorders already know the "tricks of the trade" and this film will provide no surprises, it may stimulate copycat behavior in those who have romanticized anorexia nervosa and wish to have an eating disorder.
It seems clear that Ellen is suffering; she is not attaining the normal developmental milestones for someone her age, she lacks fulfilling intimate relationships, and she feels terrible about stressing her family.  While she is struggling with the consequences of her illness, she is having trouble making the necessary changes to recover. It is hard to view this depiction of her life as "glamorous".  That being said, Ellen is Hollywood beautiful, with meticulously applied eye make-up and cute (although oversized and layered) clothes at her disposal. We would like the film's message to be more clear: eating disorders are severe, life threatening illnesses that have the highest mortality rate of any psychiatric illness. 
As mental health clinicians, we struggled with the depiction of eating disorder treatment (including psychiatry) in the film.  Recovery from anorexia nervosa is not solely, or even typically, about "hitting bottom" and finding motivation for change; evidence-based treatments exist and are shown to be effective when implemented aggressively and longitudinally.  In this sense, the film perpetuates the myth that individuals with psychiatric disorders will, at some point, "see the light" and recover due to a single transformative experience. While dramatic and wishful, emotional and behavioral change rarely occurs in this manner. Recovery from many disorders, and eating disorders in particular, tend to be marathons and not sprints. Psychiatrists and other mental health professionals can provide excellent, compassionate care for their patients while retaining appropriate boundaries.  Earning a patient's trust takes time, and the film conveys a fairly superficial and glamorized portrayal of the process of developing a therapeutic relationship. No psychiatrist, not even the esteemed Dr. Beckham, has the uncanny ability, the magical talent, to achieve this goal.
As experienced psychiatrists, we argue, that it would be highly unlikely for a treatment program to allow patients to exercise at will and eat (or not eat) whatever they choose.  We don't recommend that families stop talking about food or weight.  And, while there are stresses in most families, we see family members as important allies in treatment rather than "problems" that need to be removed.  Further, Dr. Beckham's pronouncement, "I'm not going to treat you if you're not interested in living," would be unheard of coming from any sound clinician, no less an expert in anorexia nervosa.  In fact, given Ellen's degree of emaciation and likely medical instability, most clinicians treating a patient as ill as Ellen would have strongly recommended and insisted on a higher level of treatment. In short, Dr. Beckham was fostering substandard care, if not outright malpractice. Should the patient have died (as she almost did) he would be liable for a justified loss of license and civil litigation.
---
"At the end of the day, feature movie making is about entertainment, not advocacy and education.  Marti Noxon's vision and story are based on her own experiences with the illness, and we can appreciate and be respectful of that."
---
Despite the previous consideration of anorexia nervosa as a "culture bound" illness of the Caucasian upper class, we now know that eating disorders affect individuals across the lifespan, throughout the gender spectrum, and across all ethnic and socioeconomic backgrounds. In the film most of the patients, clinicians, and staff are Caucasian, which is not in line with what we see in current clinical practice.  Increasing numbers of males seek treatment, as do transgender individuals.
Beyond omitting the diversity of the eating disorder population, the film perpetuated a number of stereotypes.  The African American characters (the patient with apparent binge eating disorder and the caregiver in the residential facility) were both obese. The three mothers were all Caucasian, highly self-preoccupied and rather superficial in their approach to their children. Ellen's stepmother is shrill and intrusive, and her mother has moved away.  The men included a conspicuously, and stereotypically, absent father. Dr. Beckham is portrayed stereotypically as well – he is single, handsome, unconventional (although with little explanation or background as to his experience and motives), difficult to access, and heroic. But perhaps the most complex and interesting character in the film, is the male patient – a dancer, a well-read and literate young man, and sensitive, compassionate friend. Despite any efforts to disparage stereotypes, the film woefully failed and reinforced a significant number of caricatures we often see on the silver screen.
Sadly, the character development and relationships throughout To the Bone were also superficial and sorely lacking any nuance. Aside from some lovely moments between Ellen and her sister—which are few and far between—there was minimal exploration of family dynamics.  Similarly, the movie fails to capture the loneliness and isolation experienced by individuals with eating disorders.  The relative ease with which the characters connect with each other, are open about their struggles, and are willing to be confrontational is unusual for individuals with eating disorders.  A budding romance between two patients with anorexia nervosa in the first weeks of treatment is difficult to fathom, as most young women with anorexia nervosa are wary at best about intimate relationships. Though they may fantasize about them, they rarely jump into romances, particularly with individuals they have just met.
At the end of the day, feature movie making is about entertainment, not advocacy and education.  Marti Noxon's vision and story are based on her own experiences with the illness, and we can appreciate and be respectful of that.  However, the film lacked any coherent or complex narrative. It even failed as a vehicle for entertainment.  It presents a rather flimsy snapshot of an episode in a young woman's life.
On the other hand, while we don't agree with her depiction of mental health treatment for eating disorders, she does convey some very significant messages. As Ellen poignantly points out, individuals with eating disorders are people, not problems.  And it is important to remember that full recovery from eating disorders is possible, and there is always reason to be hopeful.  The cast filmed this important public service announcement, based on recommendations of the Academy for Eating Disorders.
For parents, it is important to know that the film covers material and uses language that may be too mature for many young people.  As is our recommendation with most media consumption, our advice is to have very open conversations with children and teens, before, during, and after viewing the film.  We suggest that you watch the movie together. What do they know and think about eating disorders?  What was their take on the film?  What did they learn? What do they still feel that they need to know?
If your child is in treatment for or in recovery from an eating disorder, have a very frank conversation about whether or not it is a good idea to view the film at this time.  We would also encourage schools to lead discussions about the film, using it as an opportunity to focus on eating disorders and body image.
Despite the film's lack of substance and depth, and what we feel is an incomplete depiction of anorexia nervosa, we want to be clear that we do not support parents censoring or prohibiting teens from viewing it.   When supplemented by trustworthy material curated by adults who are experienced with the trajectory of eating disorders, the film may be used as a springboard to discuss the nature, course, and treatment of eating disorders.  Watch the movie with teens, and ask them what they think.
Resources
The National Eating Disorders Association and The Academy for Eating Disorders are excellent sources for reputable information.
Project HEAL, a non-profit that provides scholarships for eating disorder treatment, has developed a Frequently Asked Questions (FAQs) for To the Bone.
Was this post helpful?
Let us know if you liked the post. That's the only way we can improve.
Newsletter
Subscribe Today
Your monthly dose of the latest mental health tips and advice from the expert team at The Clay Center.
Subscribe
Multimedia
Quick Jumps
Tag Cloud